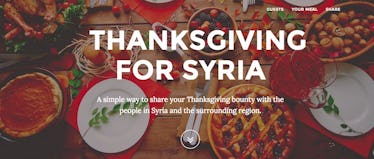 Thanksgiving For Syria App Lets You Virtually Share A Meal With Syrian Refugees
Today, many of us will be fortunate enough to sit around a dinner table surrounded by our loved ones and fill our bellies until we feel sick.
If you're among the people who can do this, count your blessings.
During the holiday season it's important to remember, and help, those less fortunate than you and that includes the millions of refugees around the world.
A new site, Thanksgiving For Syria, allows you to not only count your own blessings, but also offers you the opportunity to virtually share a meal with a Syrian refugee.
Paul Katcher, creator of the app, told Public Radio International,
Every year we get together and say we're thankful for our health, but what does that really mean? What I'm really thankful for is that I don't have to make the decision — like, my house just blew up, and one of my kids is dead under the rubble. Do I go through the rubble and bury him or do I try to save the rest of my family? All these terrible decisions I never have to make.
On the site, users select how many people are at their dinner table. From there, the site calculates the cost of your meal. The site then gives users the opportunity to donate all, or half, of the meal's cost to the organization or issue of their choice.
Katcher added in his interview,
Regardless of your politics or what you feel who did what, there are millions of people who really need help right now, and we live in a day and age where it's easier than ever to actually do something real about it.
Citations: This site lets you share your Thanksgiving meal with Syrian refugees (Mashable)