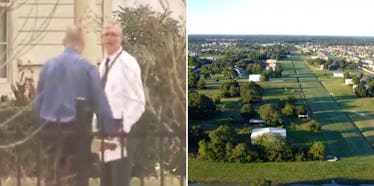 Dad Shoots And Kills Guest Who Won't Leave Son's New Year's Eve Party
abc13/Dry Creek Airport
Unfortunately, 2017 literally started off with a bang in one Texas town.
In the gated community of Cypress, which also serves as Dry Creek's private airport, a young man was throwing an invite-only New Year's Eve party for roughly 200 guests.
One attendee, however, got a bit rowdy and reportedly refused to leave.
That's when the young man's 48-year-old father, who has not been identified, took matters into his own hands, shooting and killing the partygoer.
The boy's father claims he "had no choice" but to shoot when the party attendee was brawling with him in the wee hours of the morning, Kens5 Eyewitness News reported.
This came as a huge surprise to the neighbors in the community. Steve Jones, who spoke with Kens5 Eyewitness News, said:
It's normally quiet. You never hear anything, especially from those people. There were a lot of kids playing outside with sparklers. There was music and lots of cars.
Zach Mikulec echoed the same sentiment to the news organization:
I'm just surprised their party led to that to be honest with you. They always seem like nice people. Most of the time, their parties are under control. The loudest thing they've got is their vehicles.
According to DailyMail.com, the Harris County Sheriff's Office is continuing to collect statements from those who witnessed the shooting. From there, they'll gather if the young man's father will face any charges for the incident.
Gun laws in Texas allow citizens to use deadly force when they feel as though they are in danger. And the NRA states,
Every citizen shall have the right to keep and bear arms in the lawful defense of himself or the State; but the Legislature shall have power, by law, to regulate the wearing of arms, with a view to prevent crime.
The investigation continues.
Citations: Homeowner shoots and kills 'drunk' guest who refused to leave his son's 'invite-only' New Year's Eve party (DailyMail.com), HCSO: Homeowner shoots guest at New Year's party (Kens5 Eyewitness News), Texas Gun Laws (NRA)