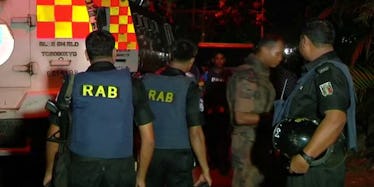 Report: ISIS Claims Responsibility For Terror Attack In Dhaka, Bangladesh
REUTERS
Update 2:44 PM ET: According to CNN, the cafe attackers responsible for yesterday's deadly assault in Dhaka were all Bangladeshi citizens. Police had previously attempted to arrest 5 of the militants responsible for the attacks. A total of 6 attackers were killed by police. 1 terrorist was captured alive. 2 police officers were killed. 20 hostages were killed. An additional 13 hostages were rescued by authorities after a commando raid. The 11-hour siege ended early Saturday morning. So far, the nationalities of 9 victims held as hostages by the attackers have been released.
The report states,
Nine of the victims were Italian, seven were Japanese, one was from India, two were Bangladeshi and one was a U.S. citizen of Bangladeshi origin, according to the country's Joint Force Command. Eleven of the victims were male and nine were female.
Update 2:12 AM ET: CNN reports 14 of the 20 reported hostages have been rescued from the Holey Artisan Bakery in Dhaka, Bangladesh after attackers exchanged gunfire and explosives with police prior to a 10-hour standoff. Two police officers were killed in the attack. ISIS has claimed responsibility for the terror attack through a wing of its media outlets. AP reported that police have killed 6 of the militants holding hostages after a commando raid inside the cafe. The siege has ended, according to officials.
Update 12:39 AM ET: The AP reports a Bangladesh official has announced the main building involved in the attacks has been cleared. The report also states 13 hostages have been rescued and brought to safety. 6 attackers were killed by police after a commando raid. The operation is ongoing.
Update 10:30 PM ET: The AP reports that gunshots and explosions have been heard while security pushes forward to end the so-far 10-hour standoff. According to the AP, police say two officers were killed and 40 wounded, including foreigners.
AP is reporting two police officers have been killed during the attacks.
According to CNN, a group of armed gunmen are claiming responsibility for the most recent terror attack currently taking place in Dhaka, Bangladesh. The report states that as many as 20 hostages are being held at Holey Artisan Bakery, a cafe frequented by expatriates.
In addition to the hostages, CNN is also reporting 40 other people have been injured as a result of the ongoing attacks. Deputy Commissioner Sheikh Nazmul Alam, who spoke with CNN, revealed that gunshots and shrapnel from explosive devices caused the injuries to those at the scene.
This story is developing...
Citations: Dhaka hostage standoff: At least 2 dead; ISIS claims responsibility (CNN)