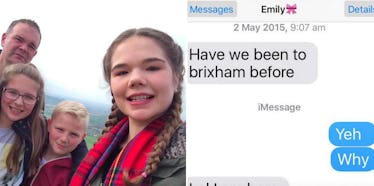 This Teen's Last Text Before She Died May Have Predicted Her Tragic Fate
Emily Gardner/Clive Gardner
The father of a 14-year-old girl who was killed in a speedboat accident said she predicted her death in her final text message to him.
Emily Gardner (pictured far right above), from the UK, drowned after becoming trapped under a capsized boat.
She was on vacation in the town of Brixham without her parents when the horror unfolded.
Just hours before her death, Emily sent a message to her dad with a wave and sleeping face emoji.
Clive, 44, believes it was "some sort of premonition." He said,
It was the very last time I heard from Emily. Now I think it was some sort of premonition. It felt so strange to me. I'm not a superstitious person but after what happened, the text makes sense to me.
The family is now calling for tighter restrictions on privately owned boats and stronger maritime regulations in the UK.
Her mom, Debbie, added,
We want speedboat drivers to have compulsory licenses and for it to be the law that all passengers wear proper-fitted life jackets. We'll make it our mission to ensure safeguards are on the statute books to stop similar tragedies and to prevent those left behind from falling apart like we have.
Emily was wearing a buoyancy aid when the tragedy took place — not a life jacket.
One of the straps got caught on the speedboat as it capsized, trapping her underwater for around half an hour.
Citations: Metro