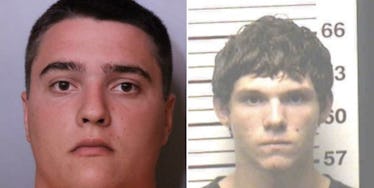 Teens Trick Craigslist Man Into Threesome Before Murdering Him During Sex
Polk County Sheriff's Office
Two teenagers who met up with an older man for a sexual encounter have been accused of murdering him and stealing just $2.75.
Jerry Johnsey, 18, and Byron Lasiak, 16, have reportedly confessed to beating up 67-year-old Donald Merkley at his home in Winter Haven, Florida.
The next day, Johnsey allegedly returned to set the house on fire to cover the pair's tracks, according to WFTS.
Detectives in Polk County said Merkley was looking for sex on Craigslist when he met Johnsey, who had previously met Lasiak through the adult section on Craigslist, WFTS reported.
The blaze was initially ruled as accidental and attributed to a faulty space heater. However, Lasiak came forward and confessed to investigators after he allegedly told a friend about the crime and she contacted the sheriff's office, Fox 13 reports. 
Polk County Sheriff Grady Judd said,
I don't think he (Merkley) was a pedophile. I think he was after sex and he got a lot more than he bargained for. He got a red-hot deal.
After getting in touch on Craigslist, Johnsey and Merkley agreed to meet at the older man's home on January 11, detectives said — but Johnsey intended to rob him.
FOX 13 reported Merkley and Lasiak were involved in a sexual act when Johnsey put Merkley in a chokehold, then strangled him with a belt, according to detectives.Lasiak reportedly confessed to hitting Merkley with a bat.
The teens looked for money before fleeing, but could only find $2.75.
And the next day, Johnsey returned to burn the place.
Sheriff Judd added,
He choked him and choked him and choked him out. And Johnsey said he was going to finish him off with a bat. All of this would have come together. It came together sooner because this kid's conscious was eating him up and he confessed, and we appreciate it.
Johnsey, of Auburndale, was charged with first-degree murder, conspiracy to commit robbery, robbery with a weapon, tampering with evidence and arson. He was booked into the Polk County Jail on Saturday, February 11 and is being held without bail.
Lasiak, of Winter Haven, was charged with first-degree murder, conspiracy to commit robbery and robbery with a weapon. He was taken to the Juvenile Assessment Center and is being held in the Juvenile Detention Center in Bartow.
Citations: 'Accidental' fire in Winter Haven now considered arson; two teens arrested for murder (WFTS), Deputies: Teens killed man during sex, set house on fire (FOX 13)