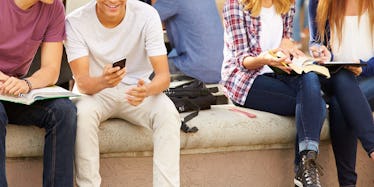 Teen Threatened To Kill Female Students For Not Sending Him Nude Photos
Shutterstock
An Idaho high school student reportedly threatened to kill all of his female classmates after they refused to send him nude photos.
The 15-year-old allegedly posted threats to Facebook and Twitter, outlining his plot to arrive at Highland High School, gun in hand, and kill each and every girl before committing suicide in the weight room, Raw Story reports.
In addition to sharing his plans, the student reportedly took to Twitter to harass his female classmates and spew racist comments about black people while mentioning intentions to assault President Barack Obama.
A screenshot of a text conversation shared by a local news channel reportedly showed the teen ranting to a friend who did not support his plot to go on a vengeful killing spree.
The suspect wrote,
[I'm] serious I have a 12 gauge shotgun and a 9 mm pistol I will bring and start killing everyone… I also have hunting [knives] I can bring.
Whether he truly had access to these weapons is unconfirmed, but the friend criticized the angered classmate for exercising such extreme measures "over freaking nudes."
In response to the criticism, he wrote,
Because no one will give any to me. [Everyone] hates me. And I hate [name redacted]. Also I will kill [myself] after.
When the friend responded with genuine concern over the spurned student's scheme and told him to calm down, he refused and said he hoped his fellow students had wills ready in preparation for their untimely deaths.
The friend, perhaps irritated by the guy's disregard for human life but utmost respect for legal preparations, told him,
We're kids. Nothing valuable. Except our lives so leave us alone.
Charged with one count of threatening violence at a school and one count of telephone harassment, the suspect is apparently being held in a juvenile detention center.
Citations: Idaho teen threatened to 'kill all the girls' because cheerleaders wouldn't send him any 'freaking nudes' (Raw Story), Update: Suspect that caused the lockdown in custody (ABC Local News 8)