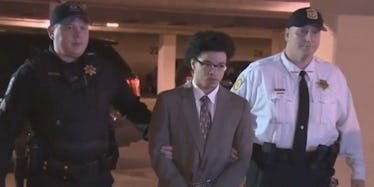 Teen Defends Killing Friend, Taking Selfie As He Died: I'm 'Chill Kind Of Guy'
WTAE
A teenager who shot his friend in the face then posed for a selfie with him instead of calling 911 has been convicted of murder.
In a Snapchat selfie sent to a friend in another state, Maxwell Morton smiled as he posed next to Ryan Mangan, who was dying.
The two 16-year-olds had been playing with a gun they found in Mangan's home in Jeannette, Pennsylvania, when Morton, believing it wasn't loaded, pointed it at his face and shot him.
After a trial, a jury rejected prosecutors' arguments that Morton killed his friend deliberately, WTAE reported, instead convicting him on the lesser charge of third-degree murder.
Morton, now 18, will be sentenced in May and could be jailed for up to 40 years.
His defense attorney, Pat Thomassey, said,
It was a difficult case because of what he did afterward, in terms of the selfie and all of the other stuff. I give the jury credit. I think they came to a reasonable conclusion based upon all of the evidence they saw.
The friends were playing video games together in February 2015 when the incident happened.
Morton, who told the Westmoreland County jury there were no issues between the two, said they were pretending to be rappers when he noticed a lump in a pillowcase, and Mangan pulled out a handgun.
Rather than seek medical help that could have saved his friend's life, Morton posed for the selfie before fleeing from the house. Police were alerted by the parents of his friend who received the photo.
Forensic pathologist Dr. Cyril Wecht believes the boy might have survived if he received help.
In court, Morton told the jury he took the picture to document what happened because he planned to kill himself.
He added he was misunderstood, and is not a monster but a "chill kind of guy," the New York Daily News reported.
He will be held at the county jail until he is sentenced in May.
Citations: 'Selfie murder' trial: Jeannette man found guilty of killing friend, 16 (WTAE), Pennsylvania teen accused of killing friend and posting selfie with dying victim on Snapchat convicted of third-degree murder (New York Daily News)