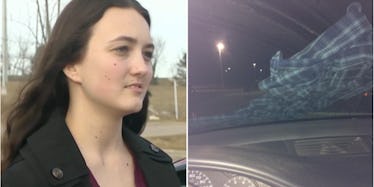 Teen Pens Scared Post On Creepy Tactic Kidnapper Used To Lure Her Out Of Car
ABC 12/Facebook
What would you do if you got into your car in an empty parking lot, only to realize there was a shirt wrapped around your windshield wiper?
That's what happened to Ashley Hardacre, and the 19-year-old fears it was part of a creepy plot to kidnap her.
The quick-thinking teen had seen social media posts warning people abut items placed on car windshields in Michigan that aim to distract young women and lure them out of their cars.
Noticing there were two cars nearby, one of which was running, Hardacre knew she couldn't remove the shirt by getting out, so she instead drove away before wrestling it off.
Now she's warning other young women about the unusual kidnapping tactic.
Hardacre was leaving her job at a mall in Flint, Michigan, when the incident happened.
She wrote on Facebook,
I got to my car and locked the doors behind me immediately as I always do and noticed that there was a blue flannel shirt on my windshield. There were two cars near me and one was running, so I immediately felt uneasy and knew I couldn't get out to get it off. I used my windshield wipers to try to get them off, but the shirt was completely wrapped around my wiper blade.
Remembering her parents' warnings, she drove to a nearby safe place and rolled her window down to remove the shirt.
She added,
I don't know why the shirt was on my car, but it had to have been intentional the way it was put on there. I really can't think of another reason as to why someone would put it on my car.
She wrote the incident "definitely frightened me a little bit."
Flint Township Police Detective Sergeant Brad Wangler reached out to Hardacre after spotting her Facebook post.
He told CBS News,
Nothing like this has ever happened before. There have been no other incidences like this. It's kind of unknown as to what or why or who.
Police and mall security are investigating the incident and searching through surveillance footage.
Citations: Woman's warning about shirt wrapped around car windshield goes viral (CBS News)