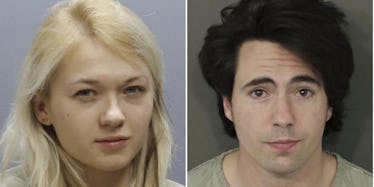 Teen Jailed For Live-Streaming Friend Being Raped Despite Her Pleas To Stop
Franklin County Sheriff's Office
A teenager who live-streamed her friend being raped on Periscope instead of helping has been jailed for nine months.
Marina Lonina escaped a possible 40-year sentence by agreeing to a plea deal with prosecutors.
The 19-year-old had been charged with rape, kidnap and sexual battery, but the charges were dropped when she agreed to plead guilty to obstructing justice.
Defense attorney Sam Shamansky said in doing so, she admitted failing to report the rape or turning over evidence afterward, The Columbus Dispatch reported.
In October, the rapist Raymond Gates, 29, was sentenced to nine years in jail after pleading guilty.
Lonina filmed Gates raping the 17-year-old victim, who cannot be named for legal reasons, at his apartment in Columbus, Ohio, in February 2016 while streaming the footage to Periscope.
Assistant prosecutor Nadia Haque told Franklin County Common Pleas Court the victim and Lonina went to Gates' apartment and drank alcohol.
The victim was heavily intoxicated, Haque said, and Gates raped her while Lonina used her phone to record the assault. However, the footage was seen on the live-streaming app by other friends of the girl. They reported it to police, and officers received a copy of the video within days.
In a statement read out in court, the victim, now 18, said she believed Lonina was her friend, but "I was too gullible to see how manipulative she truly is."
She added she has suffered from regular panic attacks since the rape. She alleged Lonina manipulated Gates into attacking her.
After the hearing, Shamanksy rejected the victim's version of events.
He said,
Streaming it live was wrong on every level, and she knows that. This was an appropriate resolution to a difficult case.
He also described claims Lonina planned and organized the rape "unmitigated nonsense" and said the defendant had been "over-indicted."
Citations: Woman who live-streamed girl's rape sentenced to nine months HIDE CAPTION Marina A. Lonina, 19, pleaded guilty to one count of obstructing justice as part of a plea agreement. Franklin County Jail (The Columbus Dispatch)