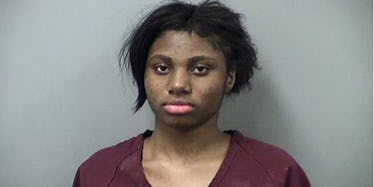 Teen Girl Accused Of Forcing Man Into Oral Sex With Knife May Face Life In Jail
Saginaw County Sherriff's Office
A teenage girl who is accused of raping a man at knife point could be jailed for life.
Lestina Marie Smith allegedly held the man down and forced him into having oral and vaginal sex with her.
The alleged attack happened in Saginaw, central Michigan, on January 11.
MLive.com reported the 17-year-old has been charged with two counts of first degree criminal sexual conduct in relation to the assault on the victim, who is 19.
The man has not been identified due to the sexual nature of the alleged attack, and little else is known about the incident.
However, authorities said they believe Smith pulled a knife on the man and forced him into having sex with her.
Each of the two charges carry a maximum sentence of life in prison.
Smith was brought before a court on Tuesday, where she was denied bail.
She is being held in Saginaw County Jail, and will be in court next for a preliminary examination to determine probable cause on February 3.
Friends of Smith have shown their support for her by posting messages of unity on her Facebook page.
One wrote, "I miss my friend," and another added, "you most def coming home baby."
A third friend wrote, "Free you friend, we gone have a talk when you come home."
Sexual assault figures reveal a surprising number of incidents where men have been abused by women, The Atlantic reported.
The National Intimate Partner and Sexual Violence Survey, an ongoing, national survey into sexual assault, included details about the perpetrator's sex in its 2010 report.
Among men reporting they were forced into sex, 79.2 percent of victims said women, not other men, had made them take part.
This is "the form of nonconsensual sex that men are much more likely to experience in their lifetime," the report said.
Citations: Female, 17, charged with knife-point rape of 19-year-old man (MLive.com), The Understudied Female Sexual Predator (The Atlantic)