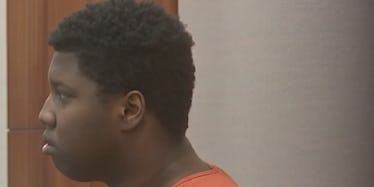 Teen Forces Ex-GF To Sleep With 3 Cousins By Blackmailing Her With Sex Tape
KTRK
A teenager is accused of forcing his ex-girlfriend to have sex with his three cousins by blackmailing her with revenge porn.
Demario Hunter allegedly threatened to send a sex tape of him and his ex to her 13-year-old sister if she didn't meet his demands.
These included having sex with three of his cousins, who are all 15, KTRK reported.
Prosecutors said Hunter picked up the three teenagers, and then the 19-year-old victim ended up having sex with all of them.
But when Hunter, 18, demanded the pair meet up again with the intention of forcing her to have sex with a fourth cousin, she called 911 and Hunter was arrested, authorities said.
Hunter, of Katy, Texas, is charged with unlawful disclosure of intimate visual material, commonly known as the revenge porn law, and could be jailed for a year if he is found guilty.
It is believed his ex did not realize she was being filmed when Hunter initially made the sex tape.
His defense attorney Equator Turner claimed he would have been unable to carry out the threat. She said,
He's just charged with a threat right now, a threat to send something that he didn't send.
She claimed Hunter did not have service on his cell phone, so could not send the video.
She added,
It was only a poker threat. He didn't have the ability or the means to send off the threat. So, it was just saying that I would do it, but I don't have the ability to.
Police in Texas have not confirmed if the three 15-year-olds involved in the case are Hunter's cousins.
Hunter appeared in court on Monday, February 21, and his bail has been set at $5,000.
His parents told KHOU they were unaware of the charges facing their son, adding they did not want to speak on camera.
Citations: MAN ACCUSED OF USING SEX TAPE TO BLACKMAIL EX-GIRLFRIEND INTO SEX WITH HIS COUSINS (KTRK), Katy teen charged with 'revenge porn' (KHOU)