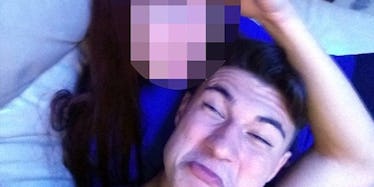 Jealous Teen Chops Off Guy's Head After Cheating GF Posts Pic With Him Online
Social Media
Love is a powerful emotion that can make you do some pretty stupid things.
However, 16-year-old Russian teenager, Nikita Rasskazov, let his affection for his girlfriend, 17-year-old Olena Matsneva, cause him to do something worse than stupid.
After Rasskazov's girlfriend admitting to cheating with 19-year-old Artyom Shustov, Rasskazov became so jealous and enraged that he actually decapitated Shustov.
Yeah, talk about really losing your head in a argument.
Allegedly, the two feuding teens agreed to meet at a park in Komsomolsk-on-Amur to end the love triangle.
However, their meeting quickly escalated into a brutal murder when Rasskazov whipped a kitchen knife out of his backpack and stabbed Shustov twice before chopping his head off.
If that's not enough to give you nightmares, local reports say Shustov was still alive when the jealous teen beheaded him.
According to Russian newspaper DVnovosti, Rasskazov then dragged the headless victim to another location in the park and placed Shustov's student papers on his body.
The Siberian Times reported Rasskazov then ran home to stash his bloody clothes and take a shower before heading off to bed.
Rasskazov went to see his girlfriend the next day, where he told her about the murder and even showed her the severed head of Shustov.
Rasskazov was obviously arrested, and later confessed to his horrific crime.
After admitting to the murder, the teen told police  he "wanted to bring the head to his beloved Olena to prove his love in this way," according to his formal statement.
Police sources say after Rasskazov showed his girlfriend the head, he tried to hide the evidence by placing the head with a bunch of heavy rocks in his backpack before tossing it in Silinka River.
Friends of the teenagers told police Rasskazov's girlfriend had told him she had oral sex with Shustov after he allegedly forced himself on her.
However, some of Matsneva's friends claim she was actually the one who initiated the affair by kissing Shustov.
Matsneva had also posted two pictures with Shustov on social media: a selfie of the two together and another photo of Shustov's chest.
In fact, a local newspaper reported one of the friends told police,
We were then in the apartment with them and personally saw what was happening. The next day, Olena obviously regretted what had happened and she told her boyfriend Nikita. But she explained it as if Artyom had harassed her and tried to rape her. Nikita was shocked and asked Artyom to meet and talk. They knew each other before. Artyom agreed and they arranged their meeting at the entrance of the park.
Russia's Investigative Committee is conducting a murder investigation and charges are expected to follow.
Citations: Sick teen decapitates rival to prove his love to girlfriend (NY Post), MailOnline, The Siberian Times, Dvnosti