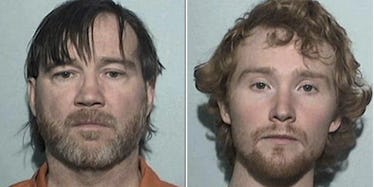 Teen Chained In Basement For Stepdad To Rape Confronts Him 1 Year After Escape
Toledo Police Department
A 14-year-old girl claims she was handcuffed in the basement on and off for a year by her stepdad Timothy Ciboro, 53, and his 28-year-old son, Esten Ciboro. She says she was sexually abused by the pair between 2012 and 2015.
The teen managed to escape the home in Toledo, Ohio, in May 2016 and alerted authorities, who charged the father and son with rape, kidnapping and child endangerment. Timothy Ciboro is also accused of raping another girl, WTOL reports.
She faced them during the trial on January 24.
The Ciboros deny the charges and have elected to defend themselves in court, meaning they questioned their alleged victim on the witness stand.
The girl, who occasionally stopped talking to pet a comfort dog, told her stepfather,
I would say the sexual touching you enjoyed.
She also told him to stop referring to himself as her dad, telling him during questioning, "You didn't treat me like a dad" and "Normal fathers wouldn't do sexual stuff to their kids."
The defendants are using Bible scripture and "God's holy word" to defend themselves, according to the Toledo Blade, with Esten Ciboro describing it as "the only law book that truly matters."
He told the judge,
There's a great deal of strategy in scripture and I use those strategies in everything I do.
In court, the girl described being shackled by the ankle to a support beam in the basement as punishment — abuse that started when her mom left in 2012 and didn't return.
Prosecutors say she suffered physical and mental abuse before using the spare key to escape when the men were out. Officers investigating the case found a bucket in the basement that the girl claimed she used as a toilet.
During the intense hearing, the alleged victim appeared to be comforted by having comfort dog, Anna, at her feet.
The golden retriever helps to calm people down, according to her handler Nancy Borders, who said,
A dog can, in particular Anna, can make just about anybody feel comfortable. That's her job. That's what she's trained to do. Having her at their feet if they get nervous. They can pet her and that calms them down.
Citations: Attorney: Ciboros acting as own lawyers will put them at 'tremendous disadvantage' (WTOL), Father, son representing themselves to be in court Monday (Toledo Blade), Emotional 14-year-old girl is comforted by a therapy dog in court as she's questioned by the father and son who 'chained her up in a basement and sexually assaulted her' (Daily Mail)