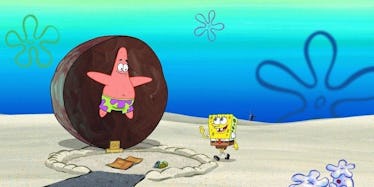 Autistic Teen Saves Student After Learning Heimlich From 'SpongeBob'
Paramount Pictures
An autistic boy saved his classmate from choking with a technique he learned from legendary Nickelodeon show "SpongeBob SquarePants."
According to SILive.com, Jessica Pellegrino started choking on a piece of apple skin during lunch at Barnes Intermediate School in Staten Island, New York on October 28.
Sitting at her table was 13-year-old Brandon Williams.
The two seventh-graders are in a special-needs class of 12 students where each student is assigned a paraprofessional.
Brandon, who is autistic, immediately got up from his seat when he saw Jessica choking and pulled her up to administer the Heimlich maneuver. He performed the technique perfectly as Jessica reportedly spit out the apple skin after just a single thrust to her stomach.
When Brandon's father, Anthony, asked him where he observed the Heimlich maneuver, the boy said,
[I] learned it on SpongeBob.
Of his son, Anthony told SILive.com,
He picks up on things that most of us would miss, and files it all away in his head, and he can recall it all in an instant. That's how he knew instantly what to do. And we're glad he did. We're proud of him.
Brandon's paraprofessional, Brian Griffin, is a retired NYPD officer and is trained in managing health emergencies.
He said,
The cafeteria is always very noisy, but I heard the kids calling me. I was ready to jump in, but Brandon had it. He was amazing. I've never seen anything like it.
A party was held in class on Thursday to honor Brandon, who is being hailed as a hero worthy of a medal by various school staff members.
Griffin added Brandon's act is proof children with autism can still be "intelligent" and "loving," despite what people may think about the condition.
Brandon was even humble enough to say he doesn't deserve a medal for simply helping a friend.
Citations: Young hero: Autistic student saves classmate from choking (SILive.com)