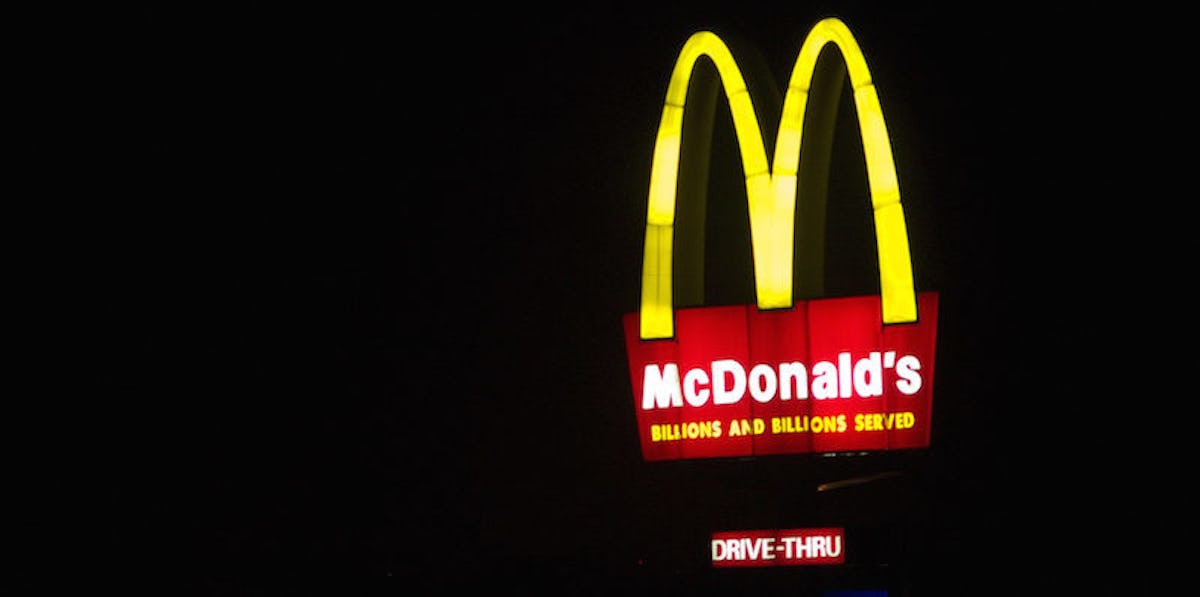 McDonald's Customer Ends Up Arrested After Putting Soda In A Water Cup
Shutterstock
They say the best things in life are free, but as one Arkansas teenager learned the hard way, you have to pay for everything else.
In his quest for the sweet satisfaction only soda can deliver, 18-year-old Cody Morris and two friends allegedly went to a McDonald's drive-thru on Tuesday. They reportedly asked for water cups, exited the drive-thru and entered the restaurant where they disposed of their water and attempted to fill their cups with soda. But, employees caught the group and asked the friends to dispose of their cups.
Morris' two friends reportedly complied with McDonald's by emptying their drinks, but Morris' desire for soda was evidently too powerful to merely surrender to the McDonald's employees. The teen allegedly attempted to flee the scene by jumping into his car. Naturally, the employees stood behind the car to block Morris' exit.
At this point, the teen was in too deep. Morris had to escape before the cops arrived, so he allegedly did what any panicked teen would do when people were standing behind his car: He threw the car in reverse, reportedly hitting one of the McDonald's employees.
After a scuffle with one of the employees who attempted to remove the keys from the ignition, Morris allegedly finally escaped to a nearby bowling alley where he was unceremoniously arrested by police. Morris was charged with felony robbery over the soda incident.
In a statement posted to Facebook, the Springdale Police Department sought to clarify any misinformation and explain how the theft of mere soda ended up being charged as a felony.
The police department said,
The theft became a robbery when the alleged suspect allegedly used force to resist apprehension by the store employees.
Morris was released on $2,500 bond and is due for arraignment on May 20.
I just hope a large soda from McDonald's was worth the felony arrest, Cody.
Citations: A McDonald's Customer Faces Charges After Putting Soda In A Water Cup (BuzzFeed), POLICE: MAN ARRESTED AFTER PUTTING SODA IN WATER CUP AT MCDONALD'S (WLS-TV)