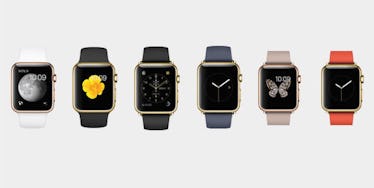 Apple Just Unveiled The Most Revolutionary Watch Ever Made
Apple's CEO Tim Cook unveiled the Apple Watch today. The company's latest piece of technology is being touted as its first-ever wearable "affordable luxury product" and has a starting price tag of $350.
The watch has a square-faced design and a brand new platform on which developers can create games, help with organization and weather-related tasks and establish new ways for people to get online without having to pull out their phones.
Cook is saying this is "the most personalized product Apple has ever made."
Here is everything you need to know about the new Apple Watch:
It's A Whole New Era For Apps
Tim Cook announced during the Apple Watch unveiling that the design of the watch allows for a new age of app development.
One time-saving feature called Glances condenses the most important information from each open app into a scrollable, efficient format.
The software behind the watch uses an entirely new set of tools called WatchKit, which will allow developers to easily create experiences designed specifically for Apple Watch.
For apps you already use on a daily basis, Apple Watch lets you choose to have third-party app notifications show up on your wrist. Notifications built with WatchKit can go even further by allowing you to take action or respond right from your wrist.
Soon your favorite apps will feature controls and interactions unique to Apple Watch, enabling you to enjoy them in dynamic new ways and put them to even greater use.
There Are Three Different Versions
Apple announced there are three different versions of the watch: the Apple Watch, the Watch Sport and the Watch Edition.
The Apple Watch will be the standard watch, with a silver square face and stainless steel or space black stainless steel case.
The Watch Sport features a more vibrant aesthetic, with anodized aluminum cases in silver or space gray. The watch also has strengthened Ion-X glass and durable bands to ensure the stability and protection of the watch.
During the unveiling, a promotional video showed model and maternal health advocate Christy Turlington Burns using the watch with a rubber wristband during her half-marathon run in Africa.
The Watch Edition is Apple's sleekest, chicest model of the Apple watch, and costs a whopping $10,000.
It's wrapped in an 18-karat gold case in yellow or rose. The watch is built with sapphire crystal and crafted specifically for bands and closures.
This means tech-savvy fashionistas won't have to worry ever again about their device being so last season.
The Apple Watch Doubles As A Wallet
Ever since Apple Pay was introduced in September, the company has been expanding its technology to major retailers including Macy's, McDonald's, Sephora, Staples, Subway, Walgreens and Whole Foods Market, among others.
Now, users will be able to pay in these chain retail stores using Apple Pay from their watch, simply by placing their wrist next to the card machine.
The Battery Lasts All Day
The Apple Watch will be able to stay on your wrist all day long without you having to worry about it running low on juice.
CEO Tim Cook says the watch will run on a powerful battery to keep your notifications tapping your wrist from morning to night.
The Apple Watch charges by snapping into a magnetic charger that doesn't require you to plug anything into the device.
Pre-orders and in-person previews of the Apple Watch at Apple stores nationwide begin April 10.
The Apple Watch will be available starting April 4 in select countries.