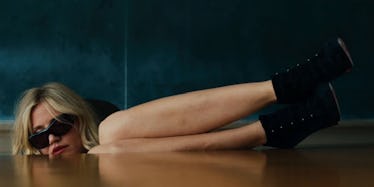 Substitute Teacher Brings Wine In Purse, Pukes, And Leaves In A Wheelchair
Columbia Pictures
Personally, I chose a career where it's not only acceptable to carry purse wine, but completely expected.
When you follow the path of a teacher, not only do you not get paid enough, but you're also expected to stay sober.
Sorry, let me rephrase. Stay sober around the children. Feel free to get drunk on your own time as often as you see fit (as a teacher, that is often), so long as it doesn't interfere with grading and lessons plans.
According to police in Lexington County, South Carolina, Judith Elizabeth Richards-Gartee failed to heed my above advice and allegedly was so drunk in a classroom she threw up on the floor.
Party foul to the highest degree.
When police arrived, they found a box of wine in her purse.
Police were called at 9:45 in the morning by administrators at Brookland-Cayce High School when they noticed Richards-Gartee acting like she was three sheets to the wind.
On top of throwing up on the classroom floor, the substitute teacher could not stand on her own. She was removed by school officials in a wheelchair.
A deputy noticed the box of wine in her purse, and students informed the officer she was drinking the wine during class.
You know how in school you weren't allowed to chew gum and the teacher would ask if you brought enough to share with the entire class? You would think the substitute teacher would have brought enough wine, just to practice good manners.
Richards-Gartee was charged with disorderly conduct and then released to paramedics who took her to the hospital.
The school district released the following statement:
On Friday, March 10, 2017, it was reported to the Administration of Brookland-Cayce School that a substitute teacher was behaving erratically and appeared to be under the influence of alcohol. This substitute is not an employee of the District, but works for Kelly Services. Kelly contracts with the District to provide substitute teachers. The Administration responded immediately, removing the substitute from the classroom and sending her to the School Resource Officer. The District has been advised that law enforcement has filed criminal charges against the Kelly employee.
Anyway, joking aside, don't give kids alcohol, and don't drink a box of wine while teaching.
Citations: Substitute Teacher Vomits In Class, Officers Find Box Of Wine In Purse (Huffington Post)