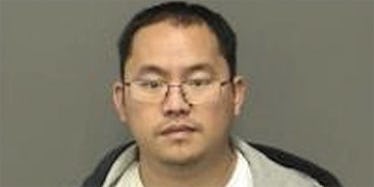 Teacher Caught Having Sex With Teen In Pick-Up Truck Outside Court House
Merced County Police
A 30-year-old teacher was stopped by a sheriff's deputy in California while allegedly having sex in a parked pick-up truck with a 16-year-old.
The scene of the crime? Nearby a county courthouse and the sheriff's office itself.
Now Blia Yang, a physics and AP chemistry instructor at Merced High School, is facing legal trouble after being placed in handcuffs over the holiday weekend.
Merced Police Sergeant Curt Gorman said, per ABC 30 in Fresno,
It was pretty brazen out in public like that.
Yang was booked at the Merced County Jail at around 7:30 pm on Friday, December 30, according to the Merced Sun-Star.
By Tuesday, January 3, Merced Union High School District officials sent word that the teacher was being placed on administrative leave. According to ABC 30, a statement from the school district read,
Local law enforcement agents have notified Merced Union High School District officials of the arrest of a teacher at Merced High School. We are cooperating with officers as they continue their investigation. While the ongoing investigation proceeds, the teacher has been placed on administrative leave. Protecting the health and safety of our students is the top priority of the Merced Union High School District.
Meanwhile, the safety of other students appears to be a top priority for Merced Police, too.
Police are making sure that Yang wasn't involved with any other students. Gorman continued:
There's a lot of background and history that needs to be done in regards to this case. We want to know how long this relationship has been going on, where it started and the extent of it.
As for the relationship that was discovered, Sgt. Delray Shelton detailed to the Sun-Star how he came upon the student and Yang last week.
After approaching the car and finding evidence that indicated sexual acts had been taking place, Delray told the Sun-Star,
We believe the relationship had been going on for at least a month, but the case is still under investigation.
Yang was booked on one count of oral copulation with a minor and another count of sexual intercourse with a minor, per ABC 30. He has yet to be formally charged.
Citations: Merced High teacher arrested, accused of having sex with student Blia Yang, 30, of Merced Blia Yang, 30, of Merced Merced County Sheriff's Office Read more here: http://www.mercedsunstar.com/news/article124352664.html#storylink=cpy (Merced Sun Star), MERCED COUNTY SHERIFF'S DEPARTMENT ARREST TEACHER FOR ALLEGEDLY HAVING SEX WITH A MINOR (ABC 30)