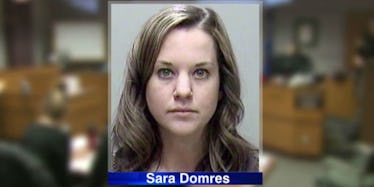 A Teacher Slept With Her Student While Her Fiancé Was At His Bachelor Party
Fox6Now
A 29-year-old former teacher in Wisconsin was sentenced to prison yesterday after having sex with one of her former students, 16, in a Motel 6 while her fiancé was at his bachelor party.
Sara Domres pleaded guilty to two counts of sexual assault back in August and will now be serving two years in prison, three years of supervision and three years of probation.
She'll also receive sex offender treatment and will have to register as a sex offender in the state of Wisconsin.
It's reported that the relationship between Domres and her male student began in 2014 via texting, and investigators "determined that between May 14, 2015 and January 6, 2016, the victim sent the defendant approximately 619 text messages. Between March 29, 2015 and January 15, 2016, the defendant sent the victim approximately 555 text messages."
In these messages, it is noted that Domres and her student even referred to each other as "baby boo" and told each other "I love you!"
The student also admitted to receiving selfies from Domres while with her new husband on her honeymoon, and apparently, reports show her husband spotted both Domres and the student in a restaurant parking lot.
"The two had sex at the Park and Ride on Moorland Road in New Berlin in July 2015 — and at the Motel 6 off of Bluemound Road in the Town of Brookfield sometime during the 2015-2016 school year," according to Fox6Now.
Domres apparently paid for the Motel 6 room in cash, and detectives learned the victim's phone had been linked to the hotel's WiFi.
On January 15, 2016, Domres was placed on administrative leave. Following an internal investigation by New Berlin School District officials, she was promptly fired.
Now, Domres can no longer teach or come into unsupervised contact with male minors, the student involved or New Berlin West High School.
She will now begin serving her prison sentence at the Taycheedah Correctional Institution.