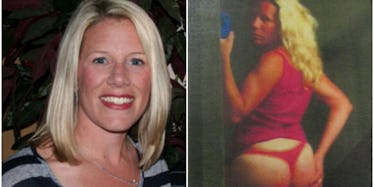 Teacher Gives Teen Blowjob In Parents' Driveway After Sexting His Schoolmate
Amy Hood
A former teacher has been sentenced to house arrest after giving a student a blowjob in the driveway of his home.
Amy Hood – who taught at Thorburn Consolidated School in Nova Scotia – will serve 15 months for the sexual abuse against a 15-year-old, reports CBC News.
The 40-year-old also sent sexts to another student, but nothing physical happened between the two.
The photos included one of Hood in her underwear, grabbing her butt seductively.
She was originally facing one year in jail, but the judge said such a sentence would be "grossly disproportionate" to her crimes.
The incidents happened in 2013. Hood was found guilty in April this year of sexual interference, sexual exploitation and two counts of luring minors over the internet for a sexual purpose.
In court, Hood blamed her bipolar disorder for her actions. She said,
I truly believe in my heart that without the onset of bipolar disorder, none of these events would have ever occurred. I want to reiterate my deep and immeasurable remorse for my actions that led to these charges. It is something I will feel regret for every day for the rest of my life.
The prosecution wanted Hood to go away for four years.
But Judge Del Atwood branded her actions "more crimes of spontaneous opportunity, rather than calculation."
He added,
Don't think of this as a break. This is a lawful sentence.
The defense said Hood has already suffered enough, due to public humiliation after the personal photos were published. She lost her job when the news came to light.
Hood will be forced to wear an electronic tag. She has been banned from using the internet unless it is for work. Even under those circumstances, she must be supervised.
Hood is now on the sex offenders register.
Citations: CBC News