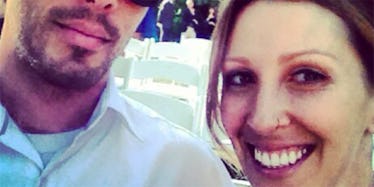 Teacher Has Sex With Teen During Class After Seducing Him With Dirty Videos
Twitter
A 36-year-old teacher is getting sued by the parents of an 18-year-old former student whom the woman is accused of molesting.
That teacher is Tara Stumph, who worked at Arroyo Grande High School in California. Stumph has already been charged with two felony counts of oral copulation and a count of sexual intercourse with a minor, along with three misdemeanor counts of molesting a child, the SLO Tribune reports.
The lawsuit she now faces from the family of the student she is alleged to have been sexually involved with presents another accusation: She molested another student.
In making that accusation — which, to be more specific, alleges Stumph sexually molested a different minor prior to her involvement with the 18-year-old boy at the center of the lawsuit — the suing family also named the Lucia Mar Unified School District, the high school principal and two other school staff members as defendants.
The reason?
According to the lawsuit, the school's administration failed to act after receiving "multiple" complaints about the teacher's involvement with the first minor, the Tribune reports.
That inaction, the lawsuit implies, led to the abuse of the now 18-year-old student. According to the Tribune, Tthe suit reads,
The sexual abuse and exploitation of (the victim), and the circumstances under which it occurred, caused (him) to develop various psychological coping mechanisms, which reasonably made him incapable of ascertaining that Stumph's conduct was harmful to him.
The lawsuit also makes detailed accusations about the nature of the teacher's relationship and the student in question, the Tribune reports.
The lawsuit alleges that over a period of months, the teacher persuaded the boy to confide in her. The two then began a sexual relationship that lasted over a year, from September 2014 to December 2015, the lawsuit states.
The teacher allegedly went as far as sending nude pictures and explicit videos of herself, while the lawsuit also states that Stumph used another teacher to call the student out of class so that sexual acts could take place.
Despite these accusations, Stumph has pled not guilty to all of her charges in the separate matter of her criminal case. As for the lawsuit, the Tribune reports that there has yet to be a significant response from either the school district or Stumph.
Citations: SLO Tribune