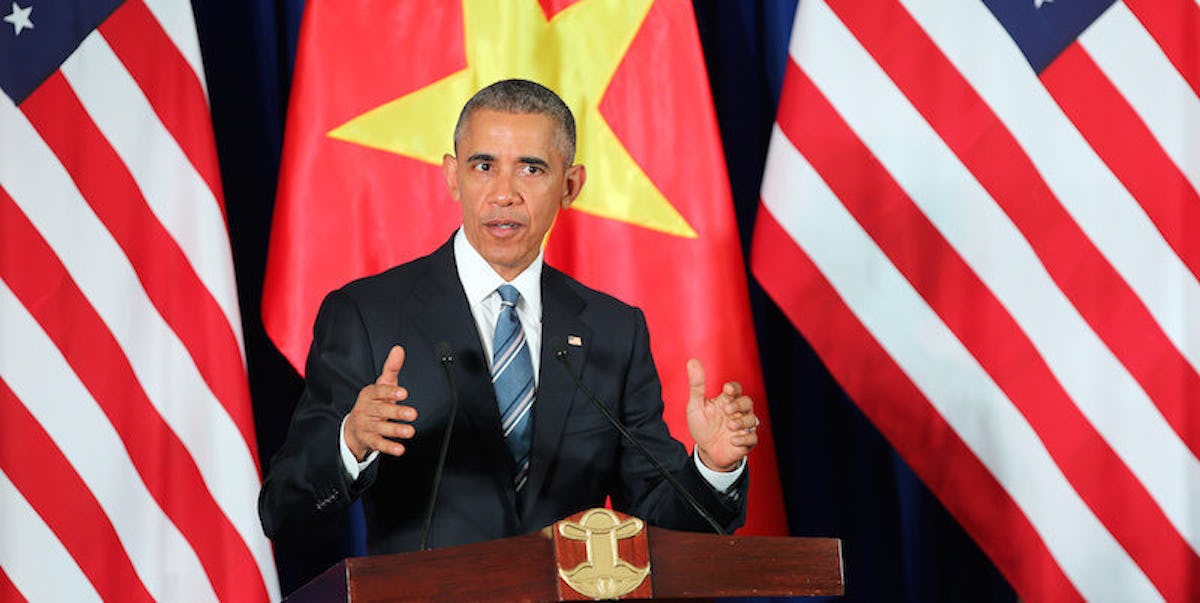 President Obama Says The Taliban Leader Was Just Killed In A US Drone Strike
REUTERS
Afghan Taliban leader Akhtar Mansour was killed in a US drone strike, President Barack Obama said.
Obama confirmed the killing during a press conference while on his trip to Vietnam.
The White House also said in a statement,
Today marks an important milestone in our longstanding effort to bring peace and prosperity to Afghanistan. With the death of Taliban leader Akhtar Mohammad Mansur, we have removed the leader of an organization that has continued to plot against and unleash attacks on American and Coalition forces, to wage war against the Afghan people, and align itself with extremist groups like al Qa'ida.
Mansour was reportedly killed in an attack that included multiple drones, according to The Guardian. He was apparently attacked and killed in Balochistan in southwest Pakistan while traveling in a convoy. This was the first known drone strike carried out in this region by the United States.
Mansour had been running the Taliban for a short time. In 2015, it was confirmed former Taliban leader Mohammed Omar had been dead for two years, and Mansour had taken over control.
It is not known if there is someone ready to take over Mansour's place and lead the group, but senior members of the Taliban met on Monday to discuss plans, according to Reuters.
Obama said in the statement Mansour rejected the Afghan government's attempts at having peace talks. He said the Taliban now has an opportunity to engage in peace-making efforts.
During the press conference in Vietnam, Obama said the US is "not re-entering the day-to-day combat operations that are currently being conducted by Afghanistan forces."
Mansour was specifically targeting American troops in Afghanistan for counterterrorism, Obama also said.
The president added the United States will continue to support the Afghan government in its peace-making attempts. He reiterated the US has "shared objectives" with Pakistan as well.
Citations: Obama Says Mullah Mansour, Taliban Leader, Was Killed in U.S. Strike (The New York Times), Statement by the President on the Death of Taliban Leader Mansur (White House), US drone strike in Pakistan kills Taliban leader Mullah Mansoor (The Guardian), Afghan Taliban meet on succession as Obama confirms leader's death (Reuters)