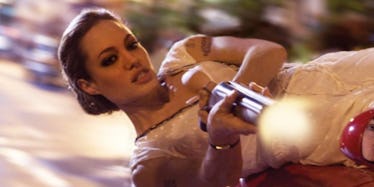 Woman Shooting BF Over Her Taco Being Cold Is The Definition Of Hanger
Universal
I can tell you this from experience: Please do not mess with a girl who is hangry.
I have never been so convinced that demons and hell spawn exist as when I witnessed a woman I care deeply about go from a sweet, level headed person to a screaming, cranky beast who -- I'm not going to lie -- frightened me.
I mean, she's never drawn a gun on me, but who knows? The night is young and it's getting increasingly easier for people to obtain a gun in the United States.
A man and his girlfriend were at a taco truck, like most of my date nights start or end, near the North Freeway in Houston.
It was near 2 am when the man gave her a taco that wasn't hot enough.
She became incensed when the truck worker wouldn't reheat her taco.
It's two in the morning, ma'am. Eat your taco so this poor worker can go home.
Instead, her man told her to "calm down."
DO. NOT. EVER. TELL. SOMEONE. TO. CALM. DOWN.
I don't care if they're being totally irrational, just don't do it, especially if they're hangry. My God, man.
He had to have known she was packin' heat?! Why would you tell a hangry person with a gun to "calm down?!"
Naturally, as we all knew would happen, the woman pulled out a gun after he told her to calm down.
At one point, the woman's boyfriend was shot, but it is unknown if she meant to shoot him or if the gun just fired accidentally.
He is expected to survive.
I wonder if he's going to break up with this girl or nah?
I feel like a girl shooting me over a cold taco would be a deal-breaker, but who am I to say? I've dated worse -- one time, I dated the person inside a Chuck E. Cheese costume.
Citations: POLICE: HOUSTON WOMAN SHOOTS BOYFRIEND IN FIGHT OVER COLD TACO (ABC 7 NY)