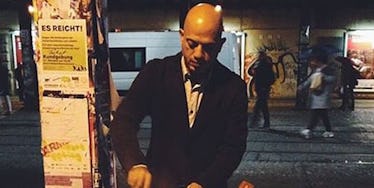 Syrian Refugee Gives Food To Homeless To Thank Germans For Their Kindness
Alex Assali fled Damascus to escape persecution for criticizing Syrian President Bashar al-Assad in online postings.
He became a refugee and went to Germany, where he was able to make a new life for himself.
Now, eight years after he left Syria, Assali sets up a station every Saturday in the Alexanderplatz station in Berlin to serve free hot meals to the homeless.
THATS ALEX! A big shoutout to him this morning, Dieser Mann beeindruckt mich zu tiefst! Seine Geschichte ist nicht... Posted by Tabea Bü on Saturday, November 21, 2015
His friend wrote a message about him on Facebook, saying (a translation from The Telegraph),
He really has lost everything; he had to leave his family back in Syria because people wanted to kill him... Even though he doesn't have a lot, he goes on the street and distributes food to the homeless. His motto is 'give something back to the German people' … God bless him, he is a blessing for so many more.
The image of Assali, who came to Germany as a Syrian refugee, comes at a fraught time for refugees.
Across Europe and the United States, politicians are debating allowing refugees into their countries, following the Paris terror attacks.
Many argue terrorists are sneaking in with the refugees, even though all of the identified Paris attackers have been European citizens.
Citations: Syrian refugee 'pays back' German kindness with food for the homeless (The Telegraph)