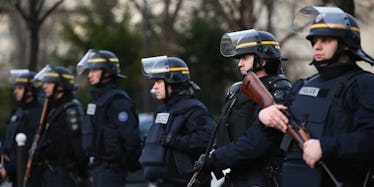 Suspect Connected To Paris Attacks Arrested During Brussels Police Raids
Getty Images
A suspect possibly connected to a Paris attacker was arrested as Belgian police conducted a series of raids earlier today.
According to the New York Daily News, the six raids took place at houses located in Brussels neighborhoods such as Laeken, Uccle, Jette and Molenbeek, the last of which was the hometown of Abdelhamid Abaaoud, the alleged mastermind of the Paris attacks.
Police searched for family and friends of Bilal Hadfi, who self-detonated outside the Stade de France Friday, along with two other suicide bombers.
People close to Hadfi may have known about the Paris attacks and deliberately kept the information secret, The New York Times reports.
One person was taken into custody for questioning, but police did not reveal how this suspect is connected to Hadfi.
The arrest comes one day after two people were killed and seven more were arrested during a raid on a Paris apartment.
French police confirmed Abaaoud was killed by wounds from bullets and a grenade. Officials also confirmed his cousin, Hasna Aitboulahcen, 26, blew herself up with a suicide vest.
Belgian Prime Minister Charles Michel called for a constitutional amendment increasing the amount of time police can hold terror suspects who are yet to be charged, according to the International Business Times.
He reportedly told the Belgian Federal Parliament,
 All democratic forces have to work together to strengthen our security.
The nation's security forces will also receive a 400 million euro ($427 million) package to strengthen their hunt for terror suspects, Michel announced.
Approximately 500 people are reportedly on a list of Belgian nationals who were radicalized into extremism.
At least 30 Belgian nationals, including Hadfi, previously traveled to Syria to fight alongside the Islamic State, which quickly claimed responsibility for killing 129 and injuring hundreds more in Paris last week.
Citations: Belgium authorities launch 6 raids in Brussels, arrest 1 suspect linked to Paris suicide bomber Bilal Hadfi (New York Daily News), Chief Suspect in Paris Attacks Died in Raid, France Says (The New York Times), Paris Attacks: Belgium Launches 6 Raids In Brussels Linked To Paris Suicide Bomber Bilal Hadfi, Detains 1 (International Business Times)