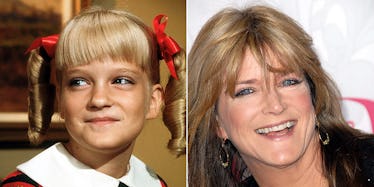 'Brady Bunch' Star Fired Over Homophobic FB Rant: 'I Hope You Meet Your Karma'
REX/Shutterstock
Susan Olsen was a radio host in Los Angeles.
Key word: was.
The woman who played Cindy on "The Brady Bunch" was fired from her job at LA Talk Radio last week due to a rant containing homophobic language. It was directed at openly gay actor Leon Acord-Whiting.
The actor later posted a screenshot of the message, multiple reports say. But it has since been deleted.
According to Vulture, the direct message from Olsen to Acord-Whiting read,
Hey there little p—sy, let me get my big boy pants on and Reallly take you on!!! What a snake in the grass you are you lying piece of s—t too cowardly to confront me in real life so you do it on Facebook. You are the biggest f–-t ass in the world the biggest p—sy! My D—k is bigger than yours Which ain't sayin much! What a true piece of s—t you are! Lying f–-t! I hope you meet your karma SLOWLY AND PAINFULLY.
Olsen's message was sent after Acord-Whiting appeared on the show she co-hosted for LA Talk Radio, "Two Chicks Talkin' Politics."
Following his appearance, the actor sent out a post on Facebook that criticized Olsen's role on the show, before vowing to not appear on the program again unless she was gone.
He wrote,
As much as I love Sheena Metal, I think LA Talk Radio needs to give 'Cindy Brady' her walking papers. I will not listen to or appear on any shows there from this point forward until she's gone. This isn't just disagreeing on, say, tax plans or foreign policy. Susan Olsen spreads outrageous misinformation & it is dangerous and unprofessional.
On Friday, LA Talk Radio announced via its Facebook page that it does "not tolerate hateful speech." It added it has cut ties with the host, who "veered off the direction" in which the digital station was going.
Although Olsen was not named specifically, the Associated Press and other reports cite the former "Brady Bunch" star as the fired employee.
No public statement from Olsen has since been reported.
Citations: Vulture