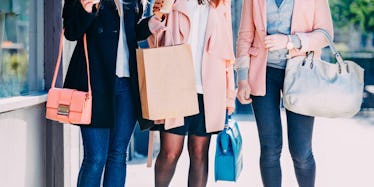 7 Ways To Make Sure You Don't Regret Leaving The House On Black Friday
What was once known as a one-day sales extravaganza has now transformed into four consecutive "retail holidays." Black Friday turns into Small Business Saturday and Sunday, and then Cyber Monday.
But we all know Black Friday is still the best (and craziest) day for sales and shopping.
After years of T-Day being the main focus of Thanksgiving weekend, maybe it's time we start looking forward to the new main event.
Forget about the cleaning, making the house look nice and stuffing the turkey in questionable places. Concentrate on getting the big screen TV you want, with a 25 percent off discount.
This holiday season, it's all about the sale.
Here are seven ways to survive Black Friday, all while finding yourself some good deals:
1. Get out and shop early.
The crowd coming out for Black Friday is anything but small. It's easy to feel overwhelmed while shopping when you run into a new person every time you try to move.
By leaving the house early, you're more likely to avoid both road and store traffic. You have a better chance of getting the items you want without having to worry they're already sold out, and you don't have to fight for any of them. 
But remember: The midnight sales are always the craziest. Go shopping at 8 or 9 am. The really early crowds will have left, and the next-rush is just beginning to wake up.
2. Find the closest parking spot to the storefront.
The farther away you park, the longer you'll have to carry all those heavy bags.
By the end of the day, you'll be exhausted. The last thing you're going to want to do is scour the parking lot to find your car... only to realize you parked two miles away.
Do yourself a favor and park as close as possible. This way, you can also take quick breaks throughout the day in order to drop your bags off at your car.
3. Dress practically.
This is not the time to look cute... unless it's comfy cute.  
Black Friday is a shopping war zone. I'm not exaggerating.
You'll be walking (or running) up and down aisles, combing through clothing racks and picking up heavy boxes all day.
It's a workout. So, you have to dress accordingly.
This means sneakers, stretchy pants and an airy top. Be prepared.
4. Carry food and water on you.
Long lines aren't exclusive to retail stores.
The food court lines are usually just as long, and restaurant waits will only deepen the hole in your stomach.
Everyone has to eat at some point. So, if you're not the most patient person when it comes to your food, make sure to bring some snacks and water to hold you over. 
5. Move from the back of the store to the front.
Sales start in the back, so that's where you'll find your cheapest items.
They're already marked down, and with Black Friday deals, you'll probably pay unimaginably low prices.
Think of the sales rack as a beach with hidden treasure in it. You're the pirate who's going to scavenger the hell out of it.
6. Use the buddy system.
It's so much easier to tackle stores when you have someone else on your team with the same goals as you.
One person holds a spot in line while the other shops. One gets food while the other goes to the bathroom. One shops the front while the other shops the back.
Teamwork makes the dream work.
7. Trust no one.
If they didn't come with you, they're not your friends.
Every potential buyer is now your competition.
Also, anyone who has a chance of standing in the way of you and those now $50 booties you've been eyeing for months is the enemy.
Remember what you went there to do: win.