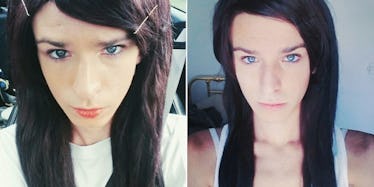 High School Students Protest Transgender Teen Who Uses Women's Bathroom
Individuals like Caitlyn Jenner and Laverne Cox dramatically altered the public's perception of transgender people over the past year or so.
At the same time, it's apparent society still has a long way to go in terms of understanding and accepting transgender people.
Over 100 students at Hillsboro High School in Hillsboro, Missouri walked out of their classes on Monday to protest the use of the women's bathroom and locker room by a transgender student named Lila Perry, The New York Times reports.
Perry, who began identifying publically as female in February, reportedly used unisex facilities previously. She said school officials agreed to allow her to use the women's facilities at the beginning of the new school year.
It's evident many students and parents are not OK with this and that prompted the walkout on Monday. During the protest, Perry was reportedly locked in a guidance counselor's office, as she says she was concerned about her safety.
As The Washington Post highlights, Perry has yet to have gender reassignment surgery, a large part of the reason this debate and protest arose.
Correspondingly, Tammy Sorden, who has a son at the school, told the St. Louis Post-Dispatch,
The girls have rights, and they shouldn't have to share a bathroom with a boy.
Not everyone is against Perry, however, and according to The New York Times, the Missouri Gay-Straight Alliance Network will host a rally in solidarity with her on Friday. Group director Morgan Keenan noted,
I think that there are a lot of folks that don't understand the difference between sex and gender and only see Lila as her sex at birth.
Perry told reporters the protests led her to drop out of the physical education class she used the women's locker room for and avoid using the bathroom.
On her Twitter, Perry expressed feeling overwhelmed by all that's going on.
One year ago I was worrying about finding a boyfriend and now I'm on national news and fighting for transgender rights...life is so crazy! — Lila Perry (@transwitchcraft) September 2, 2015
She also reportedly said,
I'm hoping this dies down. I don't want my entire senior year to be like this.
Perry is not the first transgender student who faced protest, and it's unlikely she'll be the last.
Fortunately, it seems school administrators are on her side. A statement issued by Aaron D. Cornman, the district's superintendent, said,
No matter race, nationality/ethnicity, gender or sexual orientation. We will promote tolerance and acceptance of all students that attend our district while not tolerating bullying/harassing behaviors of any type in any form.
Let's hope the public begins to develop a similar -- if not identical -- mentality.
Citations: Missouri Teenagers Protest a Transgender Students Use of the Girls Bathroom (The New York Times), Hillsboro High students walk out over transgender dispute (St Louis Post-Dispatch), A transgender teen used the girls locker room now her community is up in arms (The Washington Post)