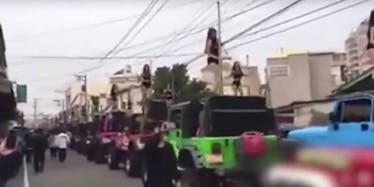 Thoughtful Son Hires 50 Strippers To Dance On Top Of Jeeps At Dad's Funeral
YouTube
Family deaths are tough to deal with.
Let's face it, there's never a good time to lose a relative or a parent -- especially if you remember having an incredible bond with that person. Unfortunately, death is guaranteed in this lovely thing called life.
The only way to correctly send off the beautiful souls who have left us is to give them the funeral, or celebration of life, they would have wanted.
That's precisely why, when one Taiwanese politician died, his brilliant son decided to hire a gang of strippers to dance around on top of bright-colored Jeeps during the funeral procession.
I'm sure he would have arranged the Jeeps to circle the actual burial ceremony if he could.
Here's a glimpse from the video clip above.
Tung Hsiang, the 76-year-old Taiwanese official, apparently received the funeral procession to match his vibrant personality.
Let's see... So, he had a total of 50 strippers dancing on top of colorful Jeeps equipped with stripper poles. Damn, his personality must have been raunchy as fuck, huh?
The deceased politician's brother Tung Mao-hsiung spoke to local reporters, saying,
He told us he wanted this through a dream two days before the funeral.
Wait, so, the man never actually stated he wanted 50 strippers dancing on top of Jeeps during his funeral procession? Instead, someone in his family had "a dream" he wanted this? Amazing. I am speechless.
While it might seem pretty odd and highly inappropriate to have strippers dance at a funeral, this type of tradition is actually quite common in some parts of Asia.
As a matter of fact, Chinese officials put together a campaign back in 2015 to put an end to these flamboyant stripper shows at funerals while citing the tradition has "severely polluted the local cultural life."
I can see that...
Hiring strippers to dance at funerals is a tactic typically used to bring more attention to the funeral service. That also makes sense.
Regardless of how you feel about funeral strippers, this man's thoughtful son did what he had to do for his dad. Rest in peace, Mr. Tung Hsiang.
Check out the video above!
Citations: Son sends father off with 50 strippers dancing on Jeeps for funeral procession (The Daily Dot)