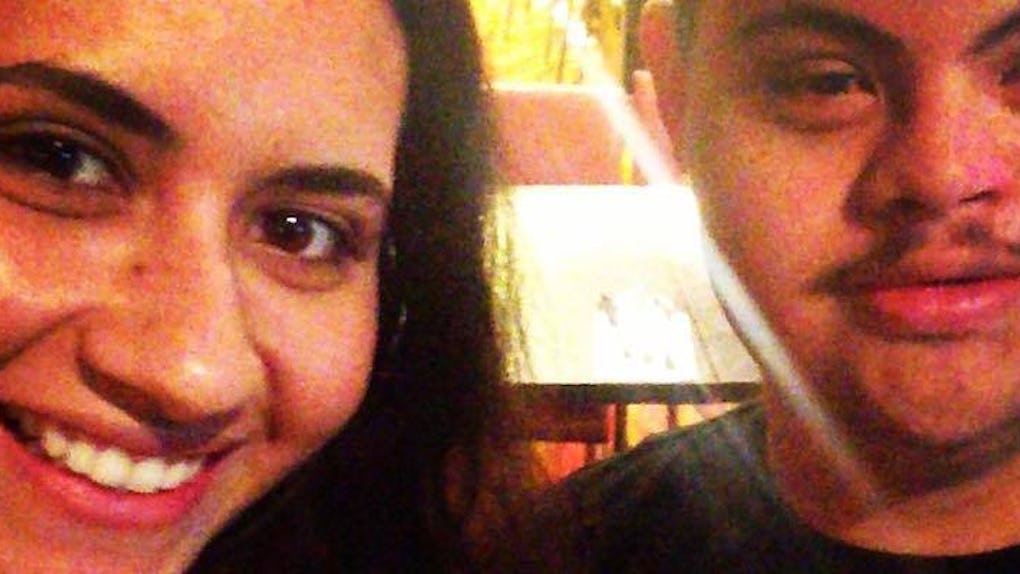 Facebook
Store Apologizes After It Refused To Let A Man With Down Syndrome In
An Australian entertainment retailer is dealing with some seriously negative press after it wouldn't let a customer with Down syndrome enter one of its stores, mistaking the man for another banned customer with Down syndrome.
Oh, boy.
James Milne, the 21-year-old customer, was attempting to enter a JB Hi-Fi retail store in Brisbane, Australia when he was stopped by security guards, The Guardian reports.
The manager of the store told James and his father they couldn't come in, claiming James was banned and the store had his photo on file.
When James' father asked to see the photograph, he was shocked to see the man in question didn't look anything like his son.
When Mr. Milne alerted the manager of this, the manager allegedly dismissively said, "they look the same," and continued to not allow James to enter the store.
James' sister Victoria recounted the exchange online.
I have never been so disgusted and mad in my life. Today at JB HiFi Mt Ommaney, when my dad and my brother (who has Down... Posted by Victoria Milne on Monday, September 21, 2015
The post was uploaded on Monday and immediately went viral, receiving over 140,000 likes and garnering more than 85,000 shares.
Richard Murray, chief executive of JB Hi-Fi, sent a letter of apology to Victoria and posted the following to the company's Facebook.
JB Hi-Fi apologises for any distress caused to James and his family.We take feedback from our customers very seriously.... Posted by JB Hi-Fi on Monday, September 21, 2015
Victoria rejected Murray's letter and posted her disgust with the seemingly half-hearted response JB Hi-Fi sent to her and her brother.
I had a brief chat to Richard Murray, CEO of JB Hi-Fi. He was adamant that the Manager of JB HiFi was very distressed.... Posted by Victoria Milne on Monday, September 21, 2015
An hour later, JB Hi-Fi posted its response to Victoria's disapproval.
JB HI-FI STATEMENTJB Hi-Fi is committed to providing all customers with the best possible shopping experience.We... Posted by JB Hi-Fi on Monday, September 21, 2015
Despite requests from the family and the Down Syndrome Association of Queensland, the store manager did not apologize for his actions.
James' father is currently seeking legal advice on how to proceed with getting an apology while Victoria would just like to see the manager axed from the store.
Citations: JB Hi-Fi apologises to man with Down's syndrome denied from Brisbane store (The Guardian)