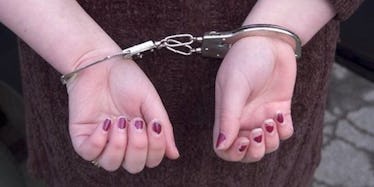 Stepmom Caught Having Sex With Son After Dad Finds Them On Couch Half-Naked
REX/Shutterstock
A woman who was caught having sex with her teenage stepson 30 years ago has been jailed for sexually abusing him.
The pair was caught in the act by the Australian woman's husband, the father of the then-15-year-old boy.
It was the third time she had initiated sexual activity with the teenager over a two-year period, which led to the boy being kicked out of the house when his father remained loyal to his wife.
The Brisbane Times reported he confronted the boy, asking him, "Did you seduce my wife? Or did she seduce you?"
In 2013, the abuse finally came to light when the victim, now in his 40s, reported the incidents to police.
The woman, who can't be named, as it could identify the victim, was in her mid-20s when she ordered the boy, who was 13 at the time, to perform sex acts on her as they watched TV.
Over the next two years, they continued to have sex when the boy visited his dad, and the stepmom blackmailed him by claiming she would tell his father if he got involved with other women.
After a trial, the woman was found guilty of two charges of incest gross indecency and acquitted of seven charges. According to Brisbane Times,
The judge said the son wrote to his father in 2012 seeking acknowledgement of the abuse. But the father never accepted it happened, the court heard.
The woman was jailed for six years and three months.
Judge Jane Campton described the offenses as a breach of trust, saying,
He was a child, you were the adult. When you were discovered in a compromising position with the complainant, you left him to take the blame for what happened. It is clear from his victim impact statement that your offending has had a significant impact on his life.
The woman pleaded for a non-custodial sentence, citing her mental health problems.
Previously, the victim had told the court the abuse had a huge impact on him, leading to years of drug abuse and emotional trauma.
Citations: 'He was a child, you were the adult': Stepmother jailed for teenager's sex abuse (Brisbane Times), Stepmother caught by her new husband having sex with his 15-year-old son - after she forced him to perform lewd acts on her as they watched television (Daily Mail)