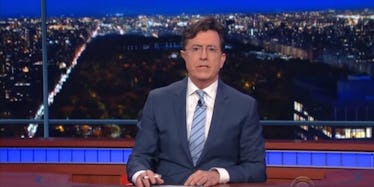 Stephen Colbert Shaken Up While Addressing Paris Terrorist Attacks (Video)
Stephen Colbert interrupted last night's pre-taped episode of "The Late Show" with an emotional speech addressing yesterday's brutal terrorist attacks in Paris.
According to The Daily Beast, Colbert had already finished filming last night's episode when he learned about the attacks. The television host privately broke the news to the studio audience during a commercial break, and waited until the episode's conclusion to address the violence publicly.
At the end of the broadcast, Colbert announced:
Folks, we end tonight's show with a heavy heart because we taped all of tonight's show, and then we found out about the horrific attacks in Paris today. I know not much is known right now. We do know there have been many deaths and the crisis is still ongoing. President Hollande declared a state of emergency, and President Obama has promised that the United States will do whatever it takes to bring those terrorists to justice. We add our thoughts and prayers to everyone in Paris.
The television host was visibly shaken by the sudden news of the attacks, and appeared to be holding back tears as he addressed the audience. After a heavy pause, he wished viewers a good night, and the cameras were shut off.
The synchronized attacks throughout France's capital killed more than 150 innocent civilians and injured hundreds more. Though officials are still scrambling to make sense of the senseless and sudden violence, it is now known that ISIS was responsible.
Find our coverage of the terrorist attacks here, and stay tuned for updates.
Stay safe, everyone.
Citations: Stephen Colbert Visibly Shaken After Finding Out About Paris Attacks During Last Nights Show (Complex), Stephen Colbert Holds Back Tears Discussing Paris Attacks (Daily Beast)