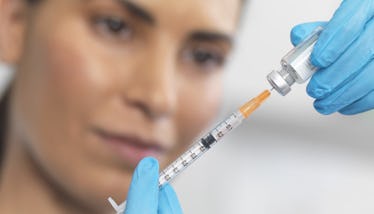 STDs Are Getting So Hard To Cure, Doctors Are Turning To Butt Injections
REX/Shutterstock
STDs are getting so hard to fight, doctors are being advised to use different forms of treatment -- and one of those includes injections in the ass.
Pleasant.
On Tuesday, the World Health Organization (WHO) issued new guidelines on how to treat gonorrhea, syphilis and chlamydia in light of reports they've grown resistant to antibiotics.
It's the first time in 13 years WHO has issued new recommendations on how to treat common sexually transmitted diseases, according to STAT.
Ian Askew, Director of Reproductive Health and Research at WHO, said,
Chlamydia, gonorrhea and syphilis are major public health problems worldwide, affecting millions of peoples' quality of life, causing serious illness and sometimes death. The new WHO guidelines reinforce the need to treat these STIs with the right antibiotic, at the right dose, and the right time to reduce their spread and improve sexual and reproductive health. To do that, national health services need to monitor the patterns of antibiotic resistance in these infections within their countries.
To cure syphilis, the new WHO recommendation is a single dose of benzathine penicillin – a form of the antibiotic that is injected by a doctor or nurse into the buttock or thigh muscle.
Meanwhile, the organization is urging doctors to use different antibiotics to help patients with gonorrhea.
It is estimated that every year 131 million people are infected with chlamydia, 78 million with gonorrhea and 5.6 million with syphilis.
A little reminder to use a condom next time you make love to a rando.