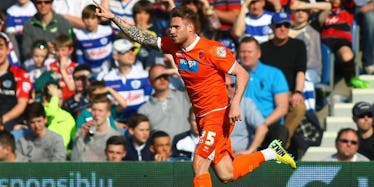 Soccer Players Took Turns Raping Woman Who Was So Drunk She 'Couldn't Stand'
Rex
Two professional soccer players — David Goodwillie and David Robertson — have been ruled as rapists and ordered to pay their victim $124,000, despite never facing a criminal trial.
The men, who both played for Scottish team Dundee United at the time, met the drunk woman on a night out before going to an apartment to have sex in Edinburgh in 2011.
Both Goodwillie — who was charged with sexual assault — and Robertson admitted they had sex with the mother, but argued it was consensual. Criminal charges against Goodwillie were dropped in July 2011.
But the victim maintained she was raped by the two men, so she sued them, which lead to the civil case.
Judge Lord Armstrong said the woman was "incapable of giving meaningful consent; and that they each raped her."
Goodwillie will not play for his current team Plymouth Argyle until the club has considered the ruling, according to a statement from the team.
The court heard the woman woke up naked and in pain in an apartment she didn't recognize on January 2, 2011. She said,
I seemed to be running about the house in a panic. I ran into every single room to see if I could make sense of my surroundings. I just felt sore. I felt sore inside as if something had happened to me, but I couldn't say what it was. I felt a lot of pain inside.
According to reports from Metro, the woman felt suicidal from this incident and couldn't commit to an intimate relationship.
Gayle McGregor, a security guard at the nightclub at the time, said she "couldn't stand up straight" and appeared to be in need of an ambulance.
In his judgment, Lord Armstrong said,
Having carefully examined and scrutinized the whole evidence in the case, I find the evidence for the pursuer to be cogent, persuasive and compelling. In the result, therefore, I find that in the early hours of Sunday January 2, 2011, at the flat in Greig Crescent, Armadale, both defenders took advantage of the pursuer when she was vulnerable through an excessive intake of alcohol and, because her cognitive functioning and decision-making processes were so impaired, was incapable of giving meaningful consent; and that they each raped her.
Citations: Two footballers raped 'vulnerable' drunk woman they met on night out, judge rules (Metro)