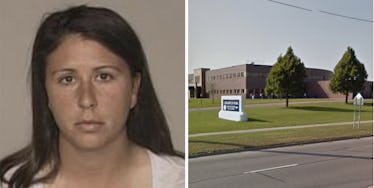 Soccer Coach Who Had Sex With 13-Year-Old Avoids Jail For Being 'So Drunk'
Anoka County Jail/Google
A former soccer coach accused of having sex with a 13-year-old boy may avoid a jail sentence because she was "so drunk" at the time.
Rebecca Noonan, of Minneapolis, Minnesota, has pled guilty to fourth-degree criminal sexual conduct in connection with having sex with the boy in 2014.
However, the 33-year-old entered a Norgaard plea — in which the defendant states he or she can't remember what happened due to intoxication or amnesia, the Star Tribune reported.
She filled out a court questionnaire that read,
I was so drunk or so under the influence of drugs or medicine that I did not know what I was doing at the time of the crime.
The former high school coach's plea means she could avoid being sent to prison, and her case will be dismissed if she meets the requirements of her sentence.
The plea deal followed lengthy negotiations between Noonan's lawyers and prosecutors, according to assistant county attorney Blair Buccicone.
Defense attorney Scott Lewis said he expects the judge to accept the plea during sentencing in April, and believes Noonan will be placed on supervised probation rather than jailed.
Charges state the boy and Noonan had sex in his bedroom in Ramsey, Minnesota.
His mother was away at the time, and afterwards Noonan told the boy to keep it a secret or she could go to prison.
Lewis said the pair drank alcohol together — though he added "there wasn't a lot of proof" they had sex.
He told the Star Tribune,
She has always maintained her innocence. It's essentially an acquittal without the risk of a trial.
Noonan became a girls' soccer coach at Champlin Park High School in 2007, rising to the position of head coach in 2012, and ran a soccer camp during the summer.
A spokesperson for the school told the Star Tribune the school opted not to renew her contract in June 2015, after the incident surfaced.
Noonan has been ordered to undergo a psychosexual evaluation ahead of sentencing.
Citations: Star Tribune