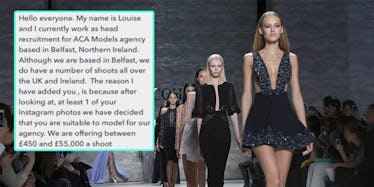 Creepy Snapchat Lures Girls Into Sending Pics Of Themselves To Become 'Models'
Shutterstock/Twitter
Funny, inspiring, depressing, cringeworthy -- the internet can be a lot of things.
Did I mention that it can be cringeworthy? Because it totally can, and one creepy Snapchat account floating around out there proves my point.
According to Seventeen, there's a Snapchat account on the popular social media platform that claims to be a legitimate modeling agency looking for new talent.
The account, which operates under the username ACAModels1, has been reportedly messaging girls of all ages (as young as 14) in an attempt to "recruit" them.
Keep in mind, the real ACA Models company doesn't accept recruits through social media. Most modeling agencies don't.
When the innocent girls finally answer, because being a professional model under a legitimate agency doesn't sound like too bad of a gig, the person behind the fraudulent account then asks for photos of them.
However, if the girls send a photo of their face, they politely ask for a full-body photo. In plain English, there's some creepy fuck on Snapchat trying to solicit revealing photos of women on the internet (what else is new?).
The fake account, which has been officially deemed fake by the real ACA Models, targets women specifically in the United Kingdom with messages reading,
The reason I have added you, is because after looking at least one of your Instagram photos we have decided that you are suitable to model for our agency.
The person behind the account who allegedly goes by the name of Louise, then begins to talk about how much the "agency" offers in compensation.
We are offering between £450 and £55,000 a shoot depending on who we put you forward for.
That's a range of $560 to $68,527.
The creeper then goes on to talk about the fact that they offer "different types of modelling" and that the agency "literally" does "every single type you could think of." The creeper continues,
Obviously the more you are interested in the better chance you have of getting jobs.
Excuse me while I throw up.
The fake-ass representative continues its faux offer by stating that the agency is "looking for 30 new models" and that the offer is "purely based on a first come, first served basis."
The pitch concludes,
Bear in mind the reason why we have added you to our company Snapchat account is because we are interested in you as well.
Others who have been duped by the account have been making an effort to get the word out and protect others from falling for the false advertisement.
In addition, the real ACA Models spoke out on Facebook after they got word that someone was imitating them to solicit photos from girls and women on the internet.
You've been warned. Happy snapping!
Citations: Beware of This Fake Snapchat Account Recruiting Teen Girls to Become Models (Seventeen)