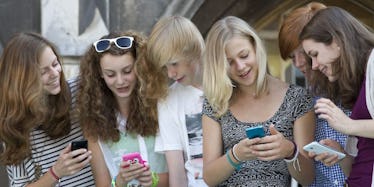 Snapchat Finally Got Group Messaging And Just Changed The Entire Texting Game
REX/Shutterstock
Log off your computer, walk away from your desk and ignore your boss if she's shouting at you to get back.
We have work to do.
Open up your phone and go to your app updates. In there, my friends, you'll find a major holiday present from Snapchat.
The big dawgs over at the photo messaging firm have finally added a group messaging feature. It basically makes WhatsApp and iMessage obsolete.
You can now chat up to 16 people at one time on Snapchat, so it seems Christmas has basically been moved to December 13.
Unlike other group messaging apps, these will disappear after 24 hours — in keeping with Snapchat's theme.
A Snapchat spokesperson explained on its official blog:
The holidays are a great time to hang out with friends and spend time with family – it's always better together! We couldn't think of a better time to announce Groups, a new way to communicate with up to 16 friends on Snapchat. Groups can be created while sending a Snap, or when you're making a new Chat. When your friends are present in a Group Chat, we show their name at the bottom of the Chat. Simply tap their name to start a 1:1 Chat, and then easily return to the Group in one swipe! We call this Quick Chat, and it's the fastest way to keep the conversation going with one friend without spamming the entire Group.
What does the latest Snapchat update include?
In Snapchat's words, it will include the following:
Snap and Chat with up to 16 friends! Chats you send to a group are deleted by default after 24 hours.
Use scissors to cut out your own stickers from a Snap!
When editing a Snap in Memories, tap the paintbrush to give your Snap a new look.
Press and hold on the camera screen to identify a song with Shazam. Songs you've Shazamed appear in Settings.