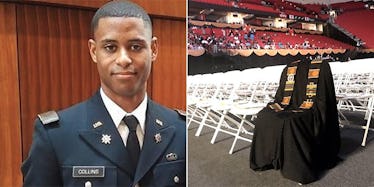 Slain Lieutenant's Graduation Robe Placed On Empty Chair At Commencement
Facebook/Twitter
A newly commissioned army lieutenant who died just days before graduating from college received a special tribute at his commencement ceremony on Tuesday.
The robe of Richard Collins III, who was set to receive his diploma, was left on an empty chair in the front row of seats at the site of Bowie State University's commencement.
A moment of silence was also held for the deceased student, according to NBC Washington.
Collins, who was black, died on Saturday after he was stabbed on the campus of the University of Maryland at College Park.
Police later arrested and charged 22-year-old Maryland Student Sean Christopher Urbanski with murder following the incident, which is being investigated by the FBI as a hate crime, NBC Washington reports.
Collins' father, Richard Collins Jr., told NBC News,
I'm in no place to feel very many emotions beside sadness and just a deep sense of personal loss. A parent's worst nightmare has just reached my doorstep
On Tuesday, Collins Jr. received his son's bachelor's degree, which was issued to Collins III posthumously by the university.
The stabbing of Collins occurred in the early hours of Saturday morning.
According to an account recorded in court documents, and as described by NBC Washington, the 23-year-old had been waiting for a shuttle bus on the University of Maryland's College Park campus, which is near Bowie State University's campus.
Collins and his friends then decided to call an Uber instead of catching the shuttle. While they were waiting, Urbanski approached the three students.
When Urbanski told Collins to move, only for Collins to not oblige, Urbanski stabbed the 23-year-old in the chest, court documents reportedly say.
Urbanski had recently joined an online hate group called Alt-Reich: Nation, NBC Washington reports.
Meanwhile, Collins had just completed his ROTC duties and last week was commissioned as a second lieutenant in the Army.
Citations: Bowie State University Student Killed on University of Maryland Campus Honored at Graduation (NBC Washington)