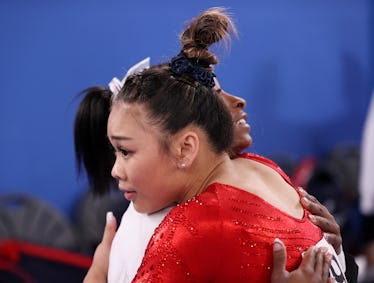 Simone Biles Celebrated Sunisa Lee's Olympic Gold On Insta And It's Pure Happiness
Laurence Griffiths/Getty Images Sport/Getty Images
Olympic-level gymnastics is no joke, and after withdrawing from the women's team final on July 27, Simone Biles has been taking a much-needed break to focus on her mental health and overall well being. Meanwhile, Sunisa "Suni" Lee has stepped up to the plate (and to the podium) to win Olympic gold in the individual all-around final, with Biles cheering her on the whole way through. Simone Biles' Instagram post after Sunisa Lee won Olympic gold is amazing, and truly shows just how proud she is of her teammate.
On Thursday, July 29, Lee nailed her balance beam routine, floor exercise, vault jump, and uneven bar performance, earning herself a total score of 57.433 — oh, and an Olympic gold medal. Biles couldn't have been more proud, and showed her support for Lee through a July 29 post via Instagram, stating "CONGRATS PRINCESS" in all caps. "[You] absolutely killed it!!! OLYMPIC CHAMPION RIGHT HERE!!! So so so beyond proud of you!!!!" She added, right alongside a photo of the two cheesin' it up for a selfie with their Olympic medals. I mean, could they be any more iconic?
Actually, yes: Biles also posted a somehow even cuter story, showing Lee apparently coming back to the Olympic Village, dancing with her fresh new gold medal around her neck. "THE QUEEN HAS ARRIVED" she captioned it.
Biles definitely wasn't the only one excited for Lee's gold-plated victory. In an adorable post via NBC's Olympic Twitter, Lee's family could be seen jumping for joy at the news of her historic win. After Gabby Douglas in 2012 and Biles in 2016, Lee is the third woman of color in a row to bring home gold for the United States — and that's the cherry on top, in my book. Can we get a round of applause for the absolute excellence?
The road definitely hasn't been easy for Lee: She almost skipped the Olympic Games altogether to support her father while he was in surgery after becoming partially paralyzed from a serious fall off a ladder in 2019. Additionally, during the U.S. Championships in June, Lee sustained ankle injuries so serious, she could be seen limping in pain at times. But through it all, the team has been there for each other. After finishing in the top spot at the Olympic trials, Biles told reporters how she felt like it was her role to share her wisdom, guide her younger teammates through the meets, and "keep everybody cool, calm, and collected."
Teamwork, apparently, does make the dream work. Seeing these athletes achieve their dreams with their friends supporting them the whole way is pure joy.