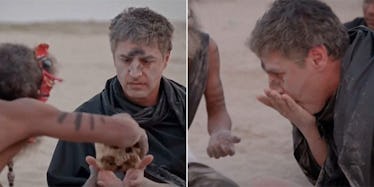 Shocking Scene Of CNN Host Eating Brains While Visiting Hindu Sect Draws Criticism
CNN
"Believer" may only be one episode into its premiere season, but it's already generating controversy.
For the CNN series' debut on Sunday, host Reza Aslan visited a Hindu sect that practices cannibalism. At one point during the hour-long airing, Aslan eats a piece of human brain.
This scene has been criticized for "sensationalizing" the Hindu religion.
One of the critics is University of San Francisco professor Vamsee Juluri, who wrote,
It is unbelievably callous and reckless of CNN to be pushing sensational and grotesque images of bearded brown men and their morbid and deathly religion at a time when the United States is living through a period of unprecedented concern and fear.
The idea of the show being sensationalized – specifically at a time when there are fears of xenophobia in the country – is a sense echoed by other Hindu critics as well.
Sanjay Puri, chairman of US India Political Action Committee (USINPAC), said in a statement,
In a charged environment, a show like this can create a perception about Indian Americans which could make them more vulnerable to further attacks.
"Believer" revolves around documenting obscure faith groups around the world. The fact that an unorthodox Hindu sect was the first group to be featured perhaps adds to the shock value of the episode.
But considering the theme, there may very well be other episodes like it.
The irony? Aslan previously said he had hoped the show would create an understanding of people who are different from what most viewers are used to.
He told the Huffington Post in February,
Our hope is to introduce people to world views and faith communities that may seem a little strange and foreign, and even frightening. But after watching me go through the experience of becoming part of these communities, they may seem more relatable.
Still, CNN's airing attracted ire, including some harsh words from Hawaii Congresswoman Tulsi Gabbard, who is the first Hindu to be elected to Capitol Hill.
CNN has not released a statement on the matter.
Citations: Daily Mail UK