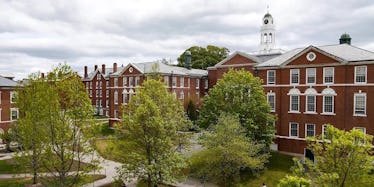 This Guy Delivered Bread To His Victim's Dorm As Punishment For Sexual Assault
Facebook
New England's elite private school, Phillips Exeter Academy, is under some major fire for mishandling a claim made by a 17-year-old student that she was sexually assaulted by a fellow student.
Michaella Henry sought help from school officials in December after she was assaulted in a church basement. In the alleged incident, her fellow student, Chukwudi "Chudi" Ikpeazu, forcefully touched her under her clothing. How did the school respond?
Well, first, they had her and her assailant participate in a meeting with the school's minister, Reverend Robert Thompson, so the three of them could really talk things out. Ikpeazu admitted that the allegations were true and he had, in fact, assaulted Michaella.
But the school didn't respond to the sexual assault by sending him to the police. In fact, the school's dean of resident life, A.J Cosgrove, "reassured" her that, "the good news is you don't have to report this to the police because there was no penetration."
Right...
So, no, they didn't report the crime to the police. And they didn't expel him. And they didn't call his mom. And they didn't suspend him. And they didn't even give him a detention. What punishment did they finally come up with after that one fateful meeting?
Chudi agreed to deliver bread to Michaella's dorm room once a week as an act of penance. Because seeing the guy who assaulted her in a church basement standing at her door every single week will probably make her feel so safe and comfortable.
In an email sent to a fellow school official, Reverend Thompson wrote, "I thought you would be amused to learn that Michaella extracted an act of penance from Chudi." Yes, you read that correctly.
He literally used the word "amused," in an email regarding a sexual assault case on campus.
Citations: New England Prep School Made Student Bake Bread for His Victim to Atone for Sexual Assault (New York Magazine)