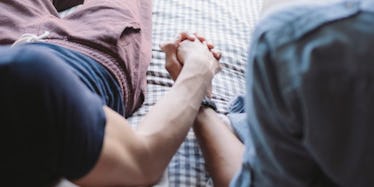 This Guy's Ex Sent Their Sex Tape To His Family And Boss In Revenge Porn Case
Stocksy/Joselito Briones
A man's ex-boyfriend sent the couple's sex tape to his family and boss in a shocking revenge porn case.
Speaking out about the incident in order to raise awareness of revenge porn, the man said his ex hacked into his Facebook to post explicit photos.
In fact, the ex even created fake dating app profiles, and asked men to visit the victim's house in Britain.
Speaking to Pink News – a British site that covers LGBTQ+ news – the man said,
My friends were calling and asking if I was aware about what was going on. The worst was when my mother called up and told me she didn't need to see me having sex. In one way it's good because there's nothing hidden about me anymore, but on the same token, my job, my ability to perform, has nothing to do with who I sleep with.
The man explained the sour breakup led to his ex initially posting the images to Facebook. He was only made aware of what had happened after his friends began calling to ask what was going on.
After the man confronted his ex, their dispute became physical. The victim even suffered a fractured eye socket.
But the worst was yet to come. The bitter ex sent explicit pictures to his ex-boyfriend's mom, and emailed the sex tape to his work colleagues and family.
He scarily posted the man's address and phone number on dating sites, and requested people to visit the victim.
The victim said he couldn't understand the abuse, insisting "no explanation rationalizes it or makes sense of it."
He added,
This isn't high school revenge. I went to bed every night, not wanting to wake up the next morning. I just didn't want to deal with it.
Shockingly, gay people are four times more likely to become victims of revenge porn, according to Pink News.
It is not known if the man has reported the abuse to police or pursued criminal charges.
Citations: Pink News