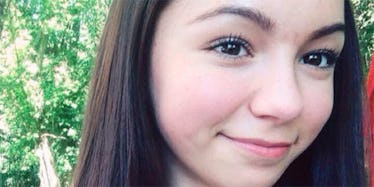 Altar Boy Murders Teen In Her Bedroom After NYE Party Before Killing Himself
Facebook
Armed and masked, a 15-year-old altar boy entered a fellow student's home on New Year's, shot the 16-year-old girl dead and fired at her mother, before turning the gun on himself.
That much has been confirmed by police in Maryland, who had been withholding the identity of the suspect as recently as Monday night, according to local station WUSA 9.
On Tuesday, WUSA reported that the gunman was teen Sean Crizer, who attended Howard High School in Ellicott City with Charlotte Zaremba, whom Crizer shot.
Crizer himself died on Tuesday.
According to WUSA, Crizer had only become an altar boy just recently. Anna Mae Lupashunski, a patron at the church Crizer attended, told the station that she knew both the gunman and the primary victim.
Lupashunski said,
I'm devastated I just start to cry and think of him since he was a little boy. He used to shovel my snow and the little girl who was killed used to sell us Girl Scout cookies.
The details of the murder, according to reports from CBS Baltimore and the Baltimore Sun, are as follows:
On Saturday night, 52-year-old Suzanne Zaremba picked up her daughter Charlotte from a New Year's Eve party and returned to their home on Knoll Glen Drive.
Shortly after, around 2 am, Suzanne heard a commotion in Charlotte's bedroom. When she entered the room, she was shot in the leg by Crizer, who lived in the same neighborhood. Crizer then shot Charlotte, before shooting himself in the head.
Suzanne then called 911 and tried to administer CPR to Charlotte. Her daughter, however, would later die at Howard County General Hospital.
Spizer, on the other hand, had been hospitalized in critical condition at Baltimore Shock Trauma, before his death on Tuesday.
According to WUSA, there we no signs of forced entry to Zaremba's home, with Howard County Police Spokesperson Sherry Llewellyn quoted as saying,
We don't know how he made entry into house or what time he made entry into the house.
Llewellyn did reveal, however, that the murder was linked to other crimes close to Zaremba's home: a pair of robberies committed blocks away. Llewellyn reportedly said,
In one of those burglaries a gun was stolen and that gun was used in this shooting.
On Monday, students at Howard High School wore black in remembrance of Charlotte.
Citations: 15-year-old who killed teen was altar boy, used stolen gun (WUSA), Boy, 15, suspected in New Year's killing of Howard High classmate, dies (Baltimore Sun)