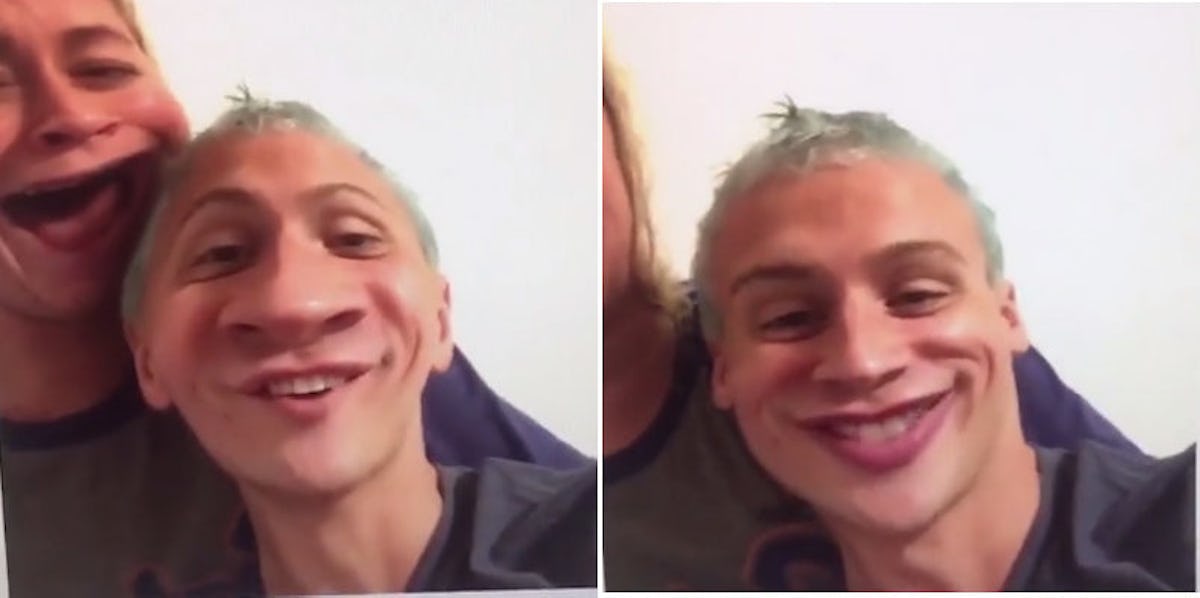 Ryan Lochte Breaks Silence With Video After Police Say He Lied About Robbery
Snapchat
Meanwhile, in America, Ryan Lochte posted and deleted an Instagram video of him messing around with someone.
The birthday message was uploaded to his account as his US Olympic swimmer teammates are being questioned by authorities in Brazil over claims they were robbed.
The poorly-timed post, which showed Lochte pulling funny faces with a swimmer Elizabeth Beisel, has since been taken down.
It earned him a string of abuse from followers who inundated his feed with poo emojis.
People haven't taken too kindly to the thought of Lochte abandoning his teammates amid the robbery scandal.
Gunnar Bentz and Jack Conger were hauled off their plane home in Rio on Wednesday.
James Feigen, who was supposed to be on that same flight, didn't even show up at the airport. Authorities asked Lochte not to leave the country, but it was too late.
Patrick Sandusky, United States Olympic Committee spokesperson, said,
The three US Olympic swimmers are cooperating with authorities and in the process of scheduling a time and place today to provide further statements to the Brazilian authorities. All are represented by counsel and being appropriately supported by the USOC and the US Consulate in Rio.
Officials have cast serious doubt on Lochte's account of the alleged robbery that took place at the weekend.
Now there's new information suggesting Lochte and his teammates lied about the whole thing.
Brazilian police are of the belief the swimmers damaged a gas station bathroom, which led to a security guard demanding they pay for the damage.
A source told the Daily Mail,
They stopped at a gas station and they were all really drunk. They went to the toilet and damaged it pretty badly. The security guy saw them and started arguing with them - telling them they had to pay. They refused and argued back.
The plot thickens.
Citations: Daily Mail