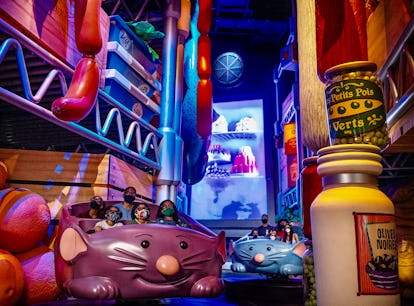 There Are SO Many Ratatouille Easter Eggs In Disney's New Ride
Yes, that is fresh-baked bread you smell.
Courtesy of Disney Parks
It's been more than 14 years since Disney fans fell in love with a world-class chef who also happens to be a rat. Yes, I'm talking about Remy in Ratatouille, and Disney World park-goers now have a whole new way to immerse themselves in the film. The idea of a ride based on the food-centric film isn't new — Disneyland Paris opened a nearly identical version of the ride in July 2014 — but it's the first time its been accessible stateside. As you explore an expanded France Pavilion in Epcot, these Remy's Ratatouille Adventure Easter eggs will make you feel like you're totally immersed in Pixar's version of Paris from the 2007 film.
To complement the new Ratatouille experience at Epcot in Orlando, Florida, which opened on Oct. 1, Disney totally Pixar-fied the France Pavilion to drop you right into the city of Remy's great adventure. In addition to the ride, there's a new Paris courtyard and dining experience called La Crêperie de Paris leading you to the main attraction. When you're done eating (or to work up your appetite), you can go on Remy's Ratatouille Adventure, which follows Remy as he enters the kitchen at Gusteau's for the first time.
The ride starts in a trackless vehicle, and you wear 3D glasses to see everything from a "rat's eye view." To help you prepare to make the great escape with Remy, here are some nods to the film — big and small — that you'll see along the way.
Remy's Ratatouille Adventure is all about immersing you in the action, so keep these tidbits in mind to get the full effect the next time you ride. And if you ride multiple times, try to sit in a different car each time, to discover new attractions along the way.