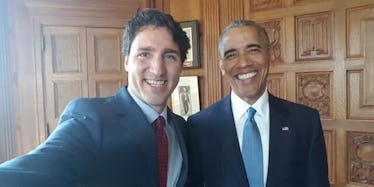 18 Reminders Why Americans Should Be Thanking Canada, Not Making Fun Of It
REUTERS
America, it's finally time for us to stop making fun of Canada. What did our northern neighbors ever do to us to deserve this perpetual ridicule?
Sure, they have funny accents and apologize too much, but Canadians are incredibly friendly people inhabiting a land full of epic natural beauty.
Not to mention, Canada has given us so many amazing things that we rarely ever give it credit for.
And in the midst of this chaotic presidential election, America is making Canada look pretty damn good.
Friday is Canada Day, which provides the perfect opportunity to recognize Canada's fantastic contributions to our lives.
But, before acknowledging all the good that's come out of Canada, we need to address the fact Nickelback is from there, and that's absolutely unforgivable. OK, now that we've gotten that out of the way, we can move forward ...
Here are 18 things Canada has produced that prove America needs to be a lot more grateful for the Great White North.
Ice Hockey
A fast-paced game with plenty of goals and FIGHTING. What's not to like?
Maple Syrup
Around 80 percent of the world's maple syrup comes from Canada.
"Titanic"
A lot of the iconic movie was filmed off the coast of Halifax (the real ship sank not too far from there, and many of those who died are buried in Halifax).
Jim Carrey
Ace Ventura is a Canuck.
Justin Bieber
Are you a Belieber?
Ellen Page
Did Juno she was from Canada?
Keanu Reeves
The Matrix is everywhere.
Peanut Butter
In 1884, a Canadian named Marcellus Gilmore Edson patented peanut paste.
Rachel McAdams
Remember this the next time you watch "The Notebook."
Seth Rogen
The man who took out Kim Jong-un is from Canada.
Drake
Running through the 6.
Neil Young
America, take a look at my life. I'm a lot like you.
The Rock
Dwayne "The Rock" Johnson's father is Canadian (and a former professional wrestler).
Anna Paquin
Sookie!
Ryan Reynolds
Deadpool is Canadian.
Mike Myers
Grrr baby, very grrr.
Justin Trudeau
Can he be our next president, please?
Ryan Gosling
Hey, girl. I'm from Canada.