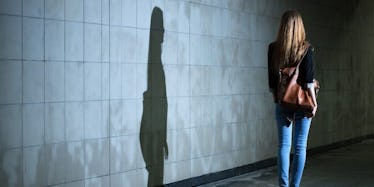 Man Rapes Woman And Leaves Her With 'Floating Face' After Ripping It Off Skull
Shutterstock
New graphic details have surfaced regarding a brutal rape attack on an innocent woman in England last summer.
A 30-year-old man named Anthony Laine is responsible for brutally raping a woman in Bewdley, Worcestershire. The gruesome attack was so bad, the woman's face became detached from her skull.
Following the attack, the woman was left with a "floating face," a medical term typically used to describe a person's face that has become detached from the bone structure holding it in place.
Now, the woman is speaking out about how much damage her heartless attacker has done to her life.
The victim of the crime recently issued a heartbreaking statement, saying,
It's ruined my life. I come across as a strong person. I'm not really. I'm looking at lots more operations, lots more time in the hospital. I'm in constant pain. I can't eat properly. I have to eat soft food. I can't chew anything at all. I can't eat meat or even toast. I can't open my mouth to yawn.
The woman goes on to say she's "fed up with the pain" she suffers from following the repulsive attack. She also stated she isn't comfortable leaving her own house because it feels like people are staring at her.
According to Metro, Timothy Sapwell, a prosecutor, spoke about the woman's injuries in great detail. Following a CT scan, it was discovered the woman had sustained "Le Fort Fractures."
Wikipedia states this is a "classic trans-facial fracture of the midface, involving the maxillary bone and surrounding structures in either a horizontal, pyramidal or transverse direction."
Sapwell stated,
The front of the face was completely detached from the skull and smashed in two. It's described in medical terms as floating face.
Court documents state the woman's injuries required a nearly 10-hour operation using bone grafts, metal plates and screws.
While it will never be enough to give the victim her freedom and life back, Anthony Laine is currently serving 12 years in prison for the crime.
Judge Daniel Pearce-Higgins has also issued "an indefinite sexual harm prevention order," which prevents Laine from having any sort of contact with the victim of his senseless crime.
Citations: Rapist ripped woman's face from her skull during horrific attack (Metro UK)