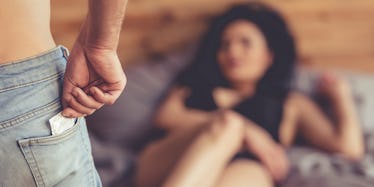 Man Convicted Of Rape After Removing Condom Mid-Sex Without Informing Partner
Shutterstock
Whether you're a man or a woman, there is no excuse for slyly taking off a condom during sexual intercourse without first informing your partner before removing it. One man is learning his lesson the hard way.
According to the Independent, a "landmark decision" has been reached in a case against a 47-year-old man from France who knowingly removed his condom mid-sex without telling the woman he was sleeping with.
The report states the man met the woman on Tinder.
The pair apparently went on two dates before engaging in sexual activity. During sexual intercourse, the woman hadn't noticed the man had removed the condom.
It was after they had finished the woman noticed the man had taken off the condom without notifying her.
Now, the investigation has resulted in the man being convicted of rape at the Criminal Court in Lausanne, Switzerland.
On Monday, the man was given a 12-month suspended sentence, according to Swiss news outlet RTS.
The victim's attorney told reporters,
This decision, which can be the subject of an appeal, is a first in Switzerland.
In a separate report regarding the conviction, Dr. Sinead Ring of the University of Kent spoke to Broadly, saying,
If it's proved the woman consented to sex with a condom and he changed the circumstances under which she'd consented, it's quite possible he'd be convicted of rape. But a jury would have to determine that he didn't have a reasonable belief in consent and just went ahead and did it anyway.
While a situation as unusual and as delicate as this one is typically quite rare, it's still just as wrong as the common rape cases you may hear about.
The only difference is a common case may have required traditional consent whereas this case required secondary consent.
Newsflash: Consent is consent and according to the details of this particular case, the woman he met on Tinder never consented to him ditching his condom despite consenting to sex.
According to the Rape, Abuse, and Incest National Network, this is the definition of consent:
Consent is an agreement between participants to engage in sexual activity. Consent doesn't have to be verbal, but verbally agreeing to different sexual activities can help both you and your partner respect each other's boundaries.
It's not hard to see why this instance is rare.
The woman clearly consented to engage in sexual activity with the man she met on Tinder. However, she did not consent to an invasive, dangerous decision made by the man during intercourse without her consent.
For that reason, he experienced the full weight of the Swiss justice system.
Citations: Man Convicted of Rape After Taking Off Condom During Sex Without Telling Partner (Complex)