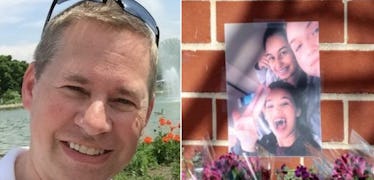 Man's Haunting Words To Wife After Killing Daughters Caught On Frantic 911 Call
LinkedIn/Youcaring.org
Authorities have released a horrifying 911 call, in which a father can be heard telling a dispatcher he shot his twin daughters, wounded his wife and was preparing to take his own life next.
The call came around 5:15 pm on March 10, after which point officers with the St. Charles Police Department responded to the scene at a luxury condominium complex in suburban Chicago.
When they arrived at the location, authorities discovered the bodies of Randall Coffland, 48, and his children, Brittany and Tiffany Coffland, who both would have turned 17 on March 14.
Anjum Coffland, Randall's estranged wife, was also found at the gruesome scene. Though she suffered from gunshot wounds to her legs, she is currently listed in stable condition at Delnor Community Hospital.
According to police, Anjum and Randall were still married, but they lived in separate homes in St. Charles. The two daughters lived with their father in an apartment.
In the disturbing 911 phone call, Randall frantically told the dispatcher,
I just shot and killed my two kids and I shot my wife, and I'm going to kill myself now.
He continued to shout to his wife in the background,
I want you to live and suffer like I did.
The dispatcher repeatedly asked Randall to stay on the line, though eventually, only silence is heard from his end.
Just moments later, a wounded and traumatized Anjum placed her own call to 911.
She screamed,
Oh my god, my husband shot my kids! My daughters are dead!
Police have since characterized the deadly shooting as a "domestic-related incident."
A search of the crime scene yielded two firearms, including a 9mm handgun found near Randall's body. Police have said the man had a valid gun permit.
After news broke of the tragic incident, the surrounding community organized a memorial outside of the condo, where mourners left candles, flowers and signs to remember the twins, who were juniors at St. Charles East High School.
Ally Siebrasse, a friend of the Coffland twins, said in an interview with WGN-TV,
It's kind of unnerving to realize that someone you were so close with, and could see in a day, and could be gone in a matter of hours. Tiffany would just absolutely light up a room with her smile. Her personality. She was an amazing young girl. You could tell made everyone better just by knowing her.
St. Charles Mayor Ray Rogina issued a statement about the "horrific personal tragedy:"
Being the close-knit community we are, an incident of this nature has impact beyond the immediate family. We think about and pray for the extended family which includes relatives, high school students and other friends. We also pray for the greater community, all of us, that we will stand tall and provide calm and peace at such a tragic moment.
An online fundraiser has been launched to help Anjum Coffland with her medical bills and her children's funeral expenses.
Citations: 'I just shot and killed my two kids': Horrifying 911 audio reveals father told dispatcher he shot dead his twins, 16, wounded his wife and was going to kill himself at their luxury home (DailyMail.com), Medical & Funeral Expenses for Anjum Coffland (Youcaring.org), Twin sisters, father killed in domestic incident in St. Charles (WGNTV)