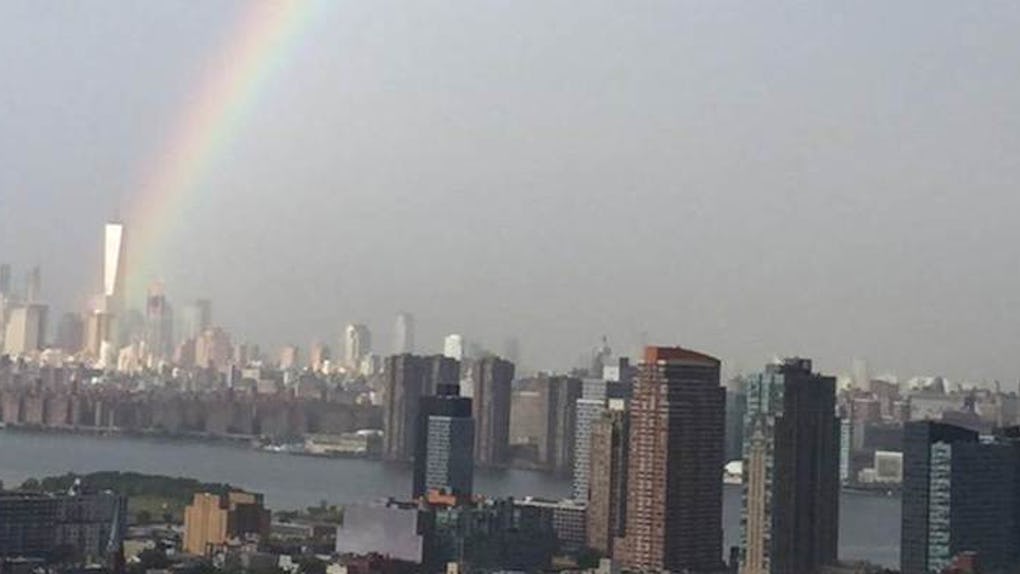 Twitter
Never Forget: Rainbow Emerges Over One WTC Day Before 9/11 Anniversary
A stunning symbol of hope and glory shone over the One World Trade Center one day before the anniversary of the September 11 terrorist attacks.
According to NBC News, Ben Sturner was on the balcony of his Long Island City residence yesterday when he photographed a rainbow that seemed to literally sprout out of the Freedom Tower.
Amazing NYC Rainbow today. Originating from #worldtradecenter the day before #911 pic.twitter.com/TophkKhqbr — Ben Sturner (@leverageagency) September 10, 2015
Sturner's post attained massive praise from the Twitterverse, largely thanks to the optimism it inspired in light of remembering one of the most harrowing days in American history.
For one person, it was the perfect pick-me-up.
@leverageagency thank you Ben. I needed to see this today — Amy Sheridan (@webvixen) September 10, 2015
Another Twitter user viewed it as a sign from above.
#magicalrainbow few more photos I took of the Rainbow originating from World Trade Center the day before 9-11 pic.twitter.com/REtmljuYBz — Ben Sturner (@leverageagency) September 10, 2015
This person thought of healing the wounded.
@leverageagency thank you inspiring our country. And perhaps bringing some comfort to those families still mourning. #911 — Karl W Tusing (@KarlWTusing) September 11, 2015
But sometimes, the most powerful reaction features very few words.
@leverageagency Goosebumps. — Rocky (@MrRockyMarciano) September 11, 2015
Citations: Rainbow Shines Over WTC Day Before 9/11 Anniversary (NBC News)